How to make Ragi Idli:
Ragi Idli is healthy, nutritious, and delicious. It is made with Finger Millet (Ragi or Nacchni) and urad dal. Ragi Idli is gluten-free and good for diabetic patients and improves gut health.
Planning breakfast in advance saves time and improves nutrient absorption in the body due to soaking and fermentation. Idli is the favorite breakfast in South India and we can find idli all over the states in India. We prefer to have idli when we are traveling.
In our family, we enjoy Ragi Idli with peanut coconut chutney. We usually prefer to make ragi idli on the weekends.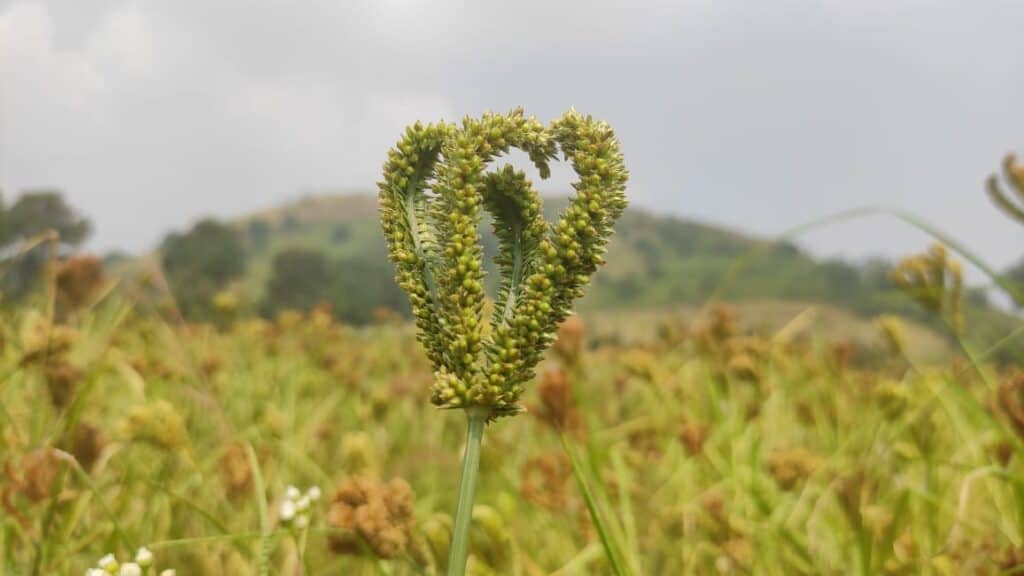 Finger Millet is well accepted in rural areas and mostly in Southern India because it is easy to process and rich in calcium, magnesium, iron, phosphorous, zinc, protein, vitamins, and dietary fiber and we can make an ample number of recipes out of Ragi.
Nutritional Value of Finger Millet per 100 gm:
| | |
| --- | --- |
| Calcium | 364 mg |
| Protein | 7.2 g |
| Magnesium | 146 mg |
| Iron | 4.6 mg |
| Zinc | 2.5 mg |
| Dietary Fiber | 11.2 gm |
The purpose of bringing this Ragi Idli recipe is to make you aware of the nutritional value and how to make Ragi Idli without rice. In my previous blog, I have shared 10 amazing health benefits of Finger Millet and 5 healthy and easy recipes (Ragi Laddu, Ragi Dosa, Ragi Cookies, Ragi Malt, and Ragi Rasgulla).
We have included Ragi in our diet and the best thing I will assure you that you will feel the change in you and your family members after including it in the regular diet.
So, let us see what are the ingredients required for making Ragi Idli.
Ingredients:
2 cup Ragi flour
1 cup urad dal
1 tsp Fenugreek (methi) seeds
Salt as per taste
Preparation for making Ragi Idli:
In a bowl take 1 cup urad dal along with the 1 tablespoon of Fenugreek seeds.
Rinse it for couple of times and soak it in 2 cup of water for 4 to 5 hours.
After 4 to 5 hours, drain the water from the soaked urad dal and Fenugreek and put it in the grinder jar and grind it after adding some water to it.
Grind it till you get a smooth and fluffy batter.
Remove the batter in a bowl and keep it aside.
Warm up 1/2 cup water first and add the ragi flour to a bowl and pour water as needed and mix well to make a thick paste.
Next pour the ragi paste in the the urad dal batter. Give a gentle stir until combined. The batter must be thick. You can adjust the water depending on the consistency of the batter.
Leave it to frement overnight (8 to 9 hours). Fermentation process is very important to get soft and fluffpy ragi idli.
On the next day add some salt and mix it well.
Making of Ragi Idli:
When the batter is ready, take a steamer or cooker and pour 1 cup of water and bring it to boil in a medium flame.
Next grease the ragi moulds and put the batter into it.
When the water begins to boil, put the ragi stand into the steamer and cover it with the lid.
12 to 15 minutes steaming is enough for making idli.
Always allow 3 to 5 minutes standing time so that the idli comes out nicely.
You can use a sppon to take out the idli from the moulds. Dip the spoon in water before taking out the idli.
Serve the ragi idli warm with peanut coconut chutney.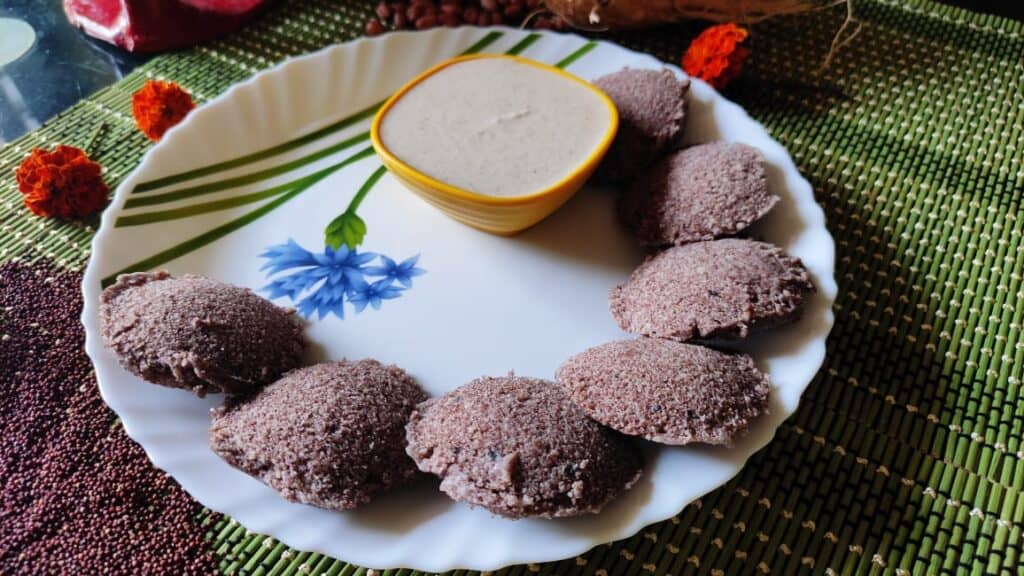 Making of Chutney for Ragi Idli:
Take half coconut, cut it into small pieces and next roast 1/2 cup peanuts on a medium flame with some chana dal. Ensure not to over roast. You can put 1/2 tsb of whole coriander seeds. Put everything in a grinder jar along with some salt and add water as per your requiremet. Really, the chutney tastes awesome.
Conclusion:
Hope you this post on how to make Ragi Idli helped you in making Ragi Idli. Please do share how it turned out with you. Hoping to see you soon in my next blog post.
Author:Tapas Chandra Roy, A Certified Farm Advisor on Millets, promoting millets from "Farm to Plate'. In a mission to take the forgotten grains- Millets to Millions. To remain updated on my blogs on millets you can join my Telegram Channel – Millet Advisor.