Benefits of Finger Millet:
Finger Millet is commonly known as Ragi. It has become a part of the diet in most households in India due to its impressive nutritional value. Its value can't be understood until you take it regularly. It was always considered poor man's food but now it is accepted by people living in urban areas. I will say millet value addition technologies have contributed a lot in bringing back to our plate. It has gained popularity among farmers because it is easy to grow and process as compared to other millets.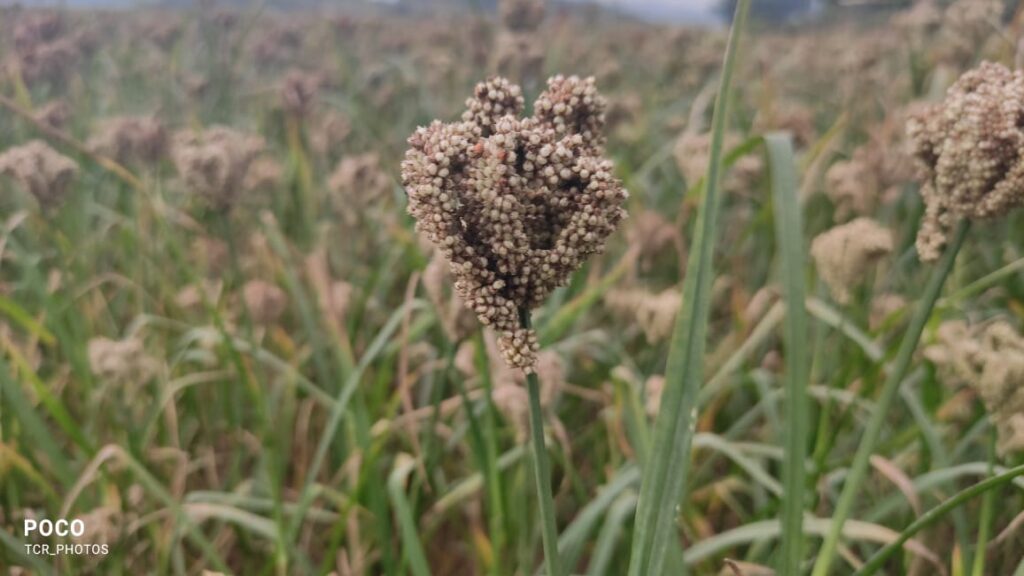 Nutritional Value of Finger Millet:
Finger millet is well recognized because it is rich in calcium, protein, magnesium, iron, phosphorous, vitamins, dietary fiber, and zinc. It contains 364 mg Calcium, 7.2 g protein, 146 mg magnesium, 4.6 mg iron, 2.5 mg zinc, and 11.2 gm dietary fiber per 100 grams of Finger Millet grains. The seed coat is also a rich source of phenolic compounds, minerals, and dietary fiber.
Health Benefits of Finger Millet:
1. Benefits of Finger Millet –Strong Bones and Teeth:
Finger Millet contains the highest Calcium, it's about 364mg per 100 gm. It has 3 times more calcium than milk. Calcium is essential for maintaining strong bones and teeth. It is good for growing children as well as for elderly people who might be at risk of osteoporosis.
2. Benefits of Finger Millet in Weight Loss:
Obesity is increasing in exponential manner globally and most cases are seen in urban areas as compared to rural. Finger Millet contains a very low natural fat(1.9 g) and this makes it suitable for weight loss. Another specific content is Tryptophan, an amino acid that helps in checking the weight of our body by lowering the appetite. Tryptophan is generally used in the biosynthesis of proteins. Since the digestion rate is slow, it keeps us away from consuming the extra calories in our diet.
Related Post: 5 Best Millets for Weight Loss
3. Benefits of Finger Millet in Controlling Diabetes:
There is a rapid rise in diabetes cases in India and around the world. Now, diabetes is a Global Emergency. Finger Millet helps in managing blood sugar levels. It has a low glycemic index which favors slow digestion and thus prevents a spike in blood sugar levels in our body.
Related Post: 5 Best Millets for Diabetes
4. Benefits of Finger Millet in Pregnant and Lactating Mothers:
Finger Millet aids healthy pregnancy by adding in milk production, relieving anxiety and stress. The rich content of minerals and nutrients helps to nourish the mother and child during pregnancy. It helps to build immunity and gives more strength to remain active. It also helps in the process of milk production as it is rich in calcium, iron, and amino acids.
5. Benefits of Finger Millet in maintaining good skin:
Finger Millet helps in maintaining skin vitality and prevents wrinkle formation and sagging. The presence of Methionine and Lysine in Finger Millet helps in collagen formation which keeps the skin healthy.
6. Benefits of Finger Millet for the Heart:
The presence of dietary fiber in Finger Millet helps in lowering cholesterol. Lecithin and Methionine remove excess fat from the liver and stabilize cholesterol levels in the blood, thus improving heart health.
7. Finger Millet helps in maintaining hemoglobin levels:
The incidence of iron deficiency and anemia is found in children and adolescents in India. Finger Millet is a source of natural iron which can address this issue and can bring a positive impact on hemoglobin levels.
8. Benefits of Finger Millets in Digestion:
Dietary fiber is essential for our digestive health and better bowel movements. Finger millet contains rich dietary fiber which helps in improving digestion and prevents constipation.
9. Benefits of Finger Millet – Relaxes the Body:
Finger Millet contains a good amino profile that acts as a relaxant. So, regular consumption of finger millet helps in dealing with depression, insomnia, and anxiety.
10. Benefits of Finger Millet – Gluten-free:
The trend of gluten-free food is increasing. Finger Millet is free from gluten and it is a good replacement for people suffering from celiac disease.
Previous Post: Health Benefits of Foxtail Millet
Healthy Finger Millet Recipes:
Despite the many health benefits of Finger Millet, still, it has not been embraced and included in the diet. No doubt, the importance of finger millet is felt in Southern India and it has become their regular diet. Today, I will be sharing Finger Millet Recipes, and hope you are going to include them soon as the recipes are tasty, easy, and simple.
1. Millet Laddu: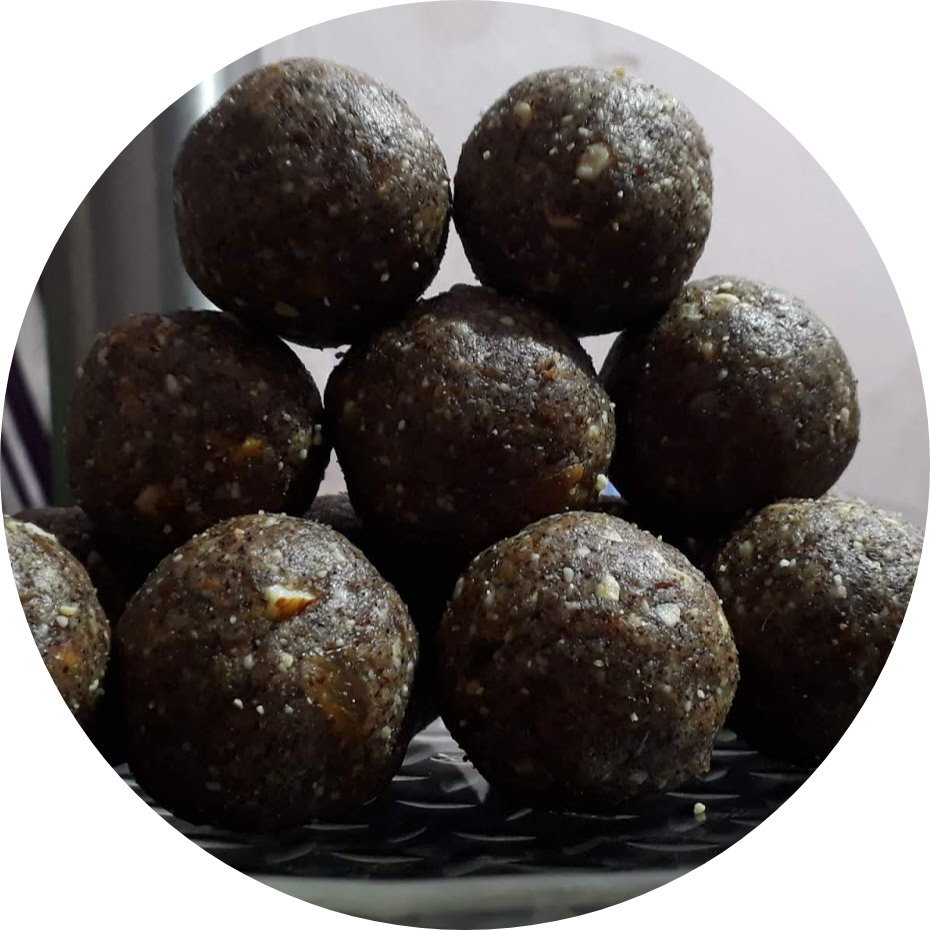 Ingredients Required:
1 cup Ragi Flour
1 cup roasted peanuts
1 cup raisins
1 cup of dates (without seeds)
4-5 cardamon (Grind to powder)
10 black pepper (Grind to powder)
Preparation for Laddu:
Roast the ragi flour slightly on a low flame and keep it aside to cool down.
Put all the ingredients in a grinder except ragi flour and give a 4-5 pulse. Don't worry if small pieces are left out.
Next, put the ragi flour into the grinder and give 2 pulses.
Transfer all the ingredients to a bowl or a plate and make a good dough with your hands.
Roll it into round balls.
Keep it in an airtight container and enjoy it.
2. Finger Millet/Ragi Dosa:
3. Finger Millet Cookies:
Cookies are easy to make at home and it is good for children. I shared this millet cookie recipe made with Finger Millet Flour in detail in my previous post. Check it out by clicking the link: Healthy Millet Cookies
4. Finger Millet Malt:
It's a very quick and easy-to-make recipe. Only thing is to make the ragi flour earlier. For making sprouted Finger Millet, you need to follow a few steps:
Soak the Finger Millet grains in sufficient water overnight.
Germinate them by tying them to a cloth for 2-3 days.
Dry the germinated grains under the sun.
Remove the sprouts.
Grind them into fine powder.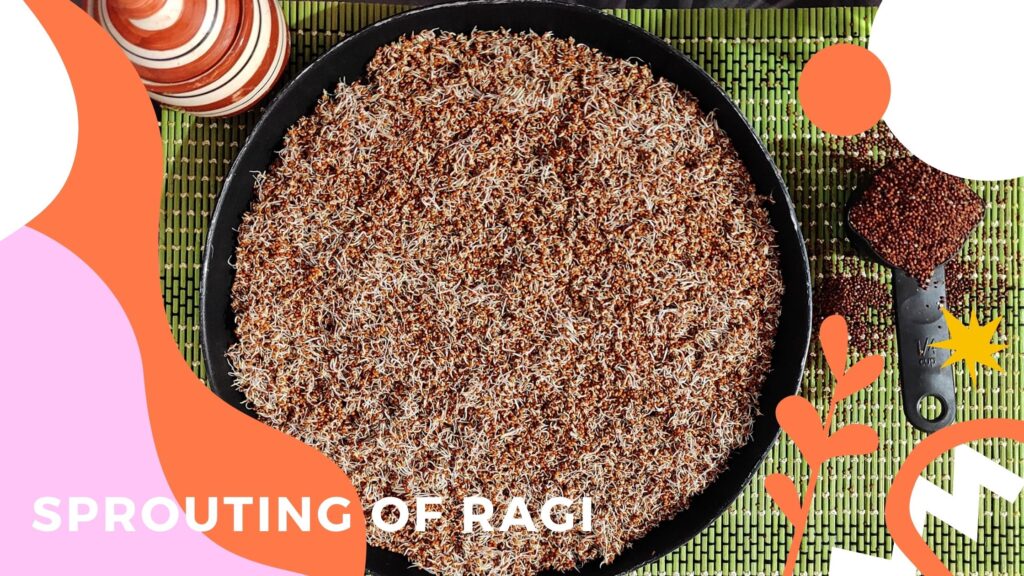 Preparation of Malt:
Take 3-4 tbsp of ragi malted flour and mix it with little water.
Boil 1 cup of water.
Put the ragi paste into it.
Cook for 2-3 minutes.
Add salt as per taste.
Cool it and you can add Jaggery and curd.
5.Finger Millet Rasgulla:
Millet Rasgulla is my memory and heart-touching recipe as this recipe was awarded the First Winner in Millet e-Cooking Contest – MILLETS AND UR KITCHEN conducted by the Indian Institute of Millets Research, Hyderabad.
Conclusion:
Finger Millet is versatile in the farmers' field and also in the kitchen. This grain can keep you healthy and you just need to embrace it and include it in your regular diet. Take a step towards it and make some recipes, definitely, you gonna love it. Let me know in the comment, did this article on the health benefits of Finger Millet bought any change in you and which recipe you are going to try. I will be happy to hear from you.
Author: Tapas Chandra Roy, A Certified Farm Advisor on Millets, 'Promoting Millets from Farm to Plate' and an Author of the book -" Millet Business Ideas-Empowering Millet Startups". In a mission to take the forgotten grains- Millets to Millions. To remain updated on my blogs on Millets please subscribe to my newsletter and for any queries please feel free to write to [email protected]