Opportunities and Challenges in Millet Sector:
In today's context, the millet sector has been facing a lot of challenges pertaining to the production of millets, processing, value addition, marketing, and consumption. At the same time, there are a lot of opportunities for entrepreneurs in the millet sector. The challenges can be mitigated by taking extra efforts in solving the problems faced in the value chain of millets. The challenges are not only faced in India but also throughout the world. Let us first understand what are the challenges faced in the millet sector and then we can dive into the opportunities in the millet sector and how the millet entrepreneurs can take advantage of the opportunities created around millet.
Challenges in Millet Production:
Low productivity of millets:
When we compare the productivity of millets with other crops like wheat, rice, and maize, it is very low. As you know millets are grown in marginal land with low fertility and most of them are rainfed which results in low productivity. Apart from these, there are many constraints in millet production. During my project work on millets, I could find the major constraints are weeds and most of the farmers cultivate millets in a traditional way. They simply broadcast the seeds on the onset of monsoon and harvest the crop after 75-90 days.
The yield gap of millets can be minimized if a proper package of practices is followed. It is found that for the farmers who practiced good practices like the System of Millet Intensification (SMI) in Finger Millet, the yield has doubled as compared to the traditional methods.
When millet farmers were asked about the factors that were to be followed to increase the yield of millets, the foremost response was sowing/transplanting on time, followed by weeding on time, proper nutrient management, and using improved varieties.
2. Area under Millet is Declining:
It has been found that the area under millet is declining drastically in India. If we compare the area under millets during the 1960s to the present scenario, it has reduced by more than 50%.
If the fallow and wastelands are bought under millet cultivation, then the production can increase to much extent. Along with this, the millet farmers need to be incentivized to encourage them to grow millets.
3. Resistance to Pests and Diseases:
As you know millets are hardy crops and very less infestation happens due to pests and diseases. But some pests and diseases often cause significant loss in major millets like Sorghum, Pearl Millet, and Finger Millet.
If more cultivars with significant resistance to pests and diseases are made available to the farmers, this problem could be solved.
I have marked a Finger Millet cultivar, ML-365 which is resistant to neck blast and is highly accepted by the farmers due to its yield and also fodder.
4. Millet Seed Production:
Even today farmers are facing problems in getting quality millet seeds. Although there are no issues in Sorghum and Pearl Millet as private players have entered into this segment and made it available to the farmers in India.
There are opportunities to bring quality seeds of minor millets and this can be done by establishing seed hubs for breeding and producing seeds. This seed production needs to be demand-driven and all the stakeholders need to join hands together to improve the seed value chain.
There are many traditional millet varieties that are performing well in the farmer's field and these varieties need to be bought in the seed chain through Farmer Producers Organization. This intervention will help the farmers to get the right quality seeds and that too in time.
5. Challenges in Millet Processing:
The millet processing machines available in India have a low recovery of 70-80% of grains and this becomes a challenge for the millet processors. Due to less efficiency, the output has more un-hulled and broken grains. Dehulling efficiency of millets is affected by the impeller speed. As you know millet grains differ in size, shape, and husk content, so it becomes difficult to handle. Depending upon one dehuller for dehusking all types of millets is not suitable rather it requires two types of dehuller. As Kodo and Barnyard Millet contain multiple seed coats, it requires a double-stage dehuller to remove the husk.
Separation of the husk of millets and its collection is quite difficult as it causes spillage all over the processing unit and often gets mixed with the final product. Even many millet processors are facing difficulty in handling and disposing of the husk of the millets. If the husk of millets could be used in making value-added products, then the issue could be solved.
Millets being 100% gluten-free, it becomes very difficult to make some products with all total millet ingredients. Still, more research and development are needed for enhancing the availability of nutrients and decrease the anti-nutritional contents.
Still, progress is continuing on improving the shelf life of processed millet grains. In today's scenario, the shelf life of millets is enhanced to 4-6 months. But to cater to the international market and exports from India, the shelf life of millets is to be enhanced to a minimum of 12 months.
To overcome all the challenges in the millet sector, there is a need for constant efforts from all the stakeholders and institutions toward mainstreaming millet. It is not only addressing the challenges discussed above but also building forward and backward linkages by creating a better millet ecosystem. No doubt, the Government has taken a lot of initiatives in this last decade to bring millets to the plate of all and has taken vital steps to promote millets in India and also abroad.
6. Low Investment in Research and Development:
Research and development activities play a crucial role in generating knowledge and disseminating it to farmers, processors, and other stakeholders in the millet sector. Low investment in R&D results in a lack of updated and accessible information on millet cultivation techniques, processing technologies, and market trends. This limits the adoption of best practices and hinders the overall growth and sustainability of the millet sector.
Now, its time to look at the opportunities in Millet Sector
Opportunities in Millet Sector:
The millet sector offers several opportunities, driven by increasing consumer demand for nutritious and sustainable food options. Millets are small-seeded grains that are highly nutritious, gluten-free, and have a low glycemic index. They are rich in fiber, protein, minerals, and antioxidants, making them a valuable component of a healthy diet. Here are some opportunities in the millet sector.
Food Processing:
Millets can be processed into various food products, including flour, flakes, porridge, and snacks. There is a rising trend of using millet-based products as a substitute for wheat and rice due to their nutritional benefits. Entrepreneurs can set up millet processing units to manufacture these value-added products and cater to the increasing demand.
Retail and Distribution:
Establishing retail and distribution networks for millet products can be a lucrative opportunity. This can include setting up dedicated millet stores, partnering with grocery chains to stock millet products, or developing an online presence for e-commerce sales. Creating awareness about the health benefits of millets and promoting its usage can help drive consumer demand.
Export Opportunities:
Millets have gained popularity globally as a sustainable and healthy food option. Exporting millet products to countries where there is a growing interest in alternative grains can be a profitable opportunity. Understanding international trade regulations and building strong distribution channels is crucial for success in the export market. To know the potential of the export of millets from India, I have written a blog "Millet Export from India is creating opportunities for new entrepreneurs".
Millet-based Hotel Business:
Focusing on a millet-based hotel business can be a unique and exciting opportunity that aligns with the growing demand for healthy and sustainable food options. Here are some key considerations and potential opportunities for a millet-based hotel business:
1. Menu Development:
Designing a menu that showcases millets as a core ingredient can be a distinguishing factor for your hotel. Develop a variety of millet-based dishes, including breakfast items, salads, main courses, and desserts. Experiment with different millet types such as pearl millet, finger millet, or foxtail millet, and incorporate them into traditional and innovative recipes to cater to a wide range of tastes.
On my recent visit to a hotel, I could find a QR Code placed on the dining table. It was interesting to find the different types of millet recipes.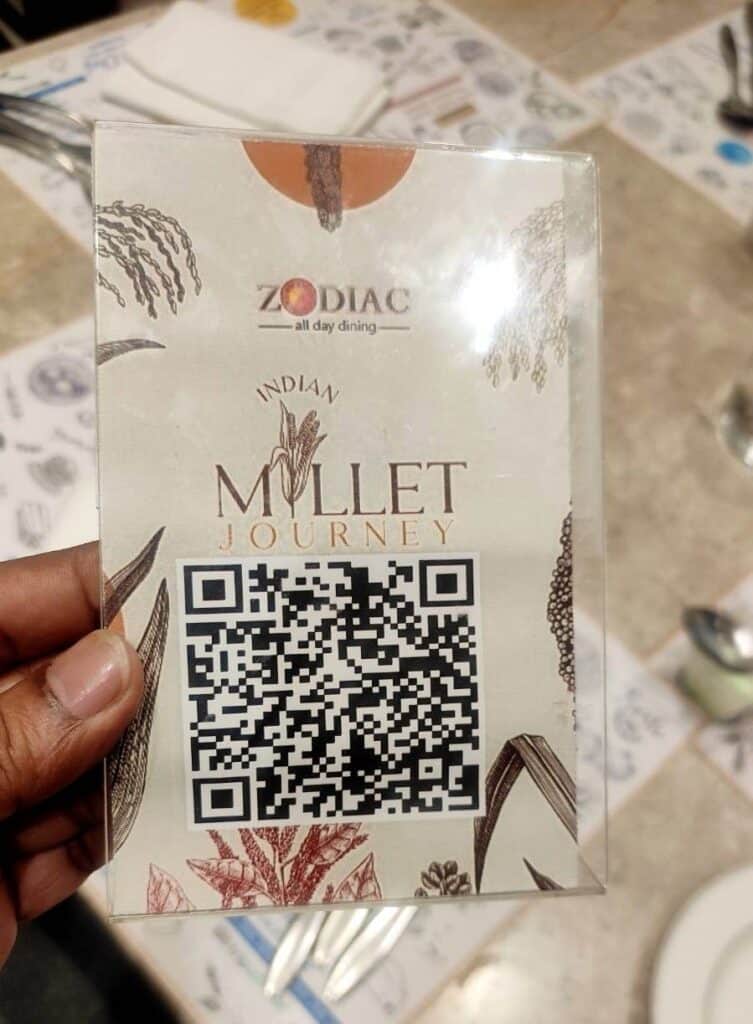 2. Millet-Based Events and Festivals:
Organize events or festivals that celebrate millets and their culinary significance. This could include themed dinners, food tastings, or even partnering with local millet festivals or organizations. Such events can attract food enthusiasts, create buzz around your hotel, and position it as a destination for millet-based cuisine.
On 18th May 2023, Michael's Kitchen, Bhubaneswar, Odisha conducted a Millet Food Festival in collaboration with Odisha Millets Mission, where Home Cooks & Housewives were invited to the Millet Cooking Competition, and the winners were awarded. Awesome and yummy millet recipes were displayed and this attracted many people to this restaurant.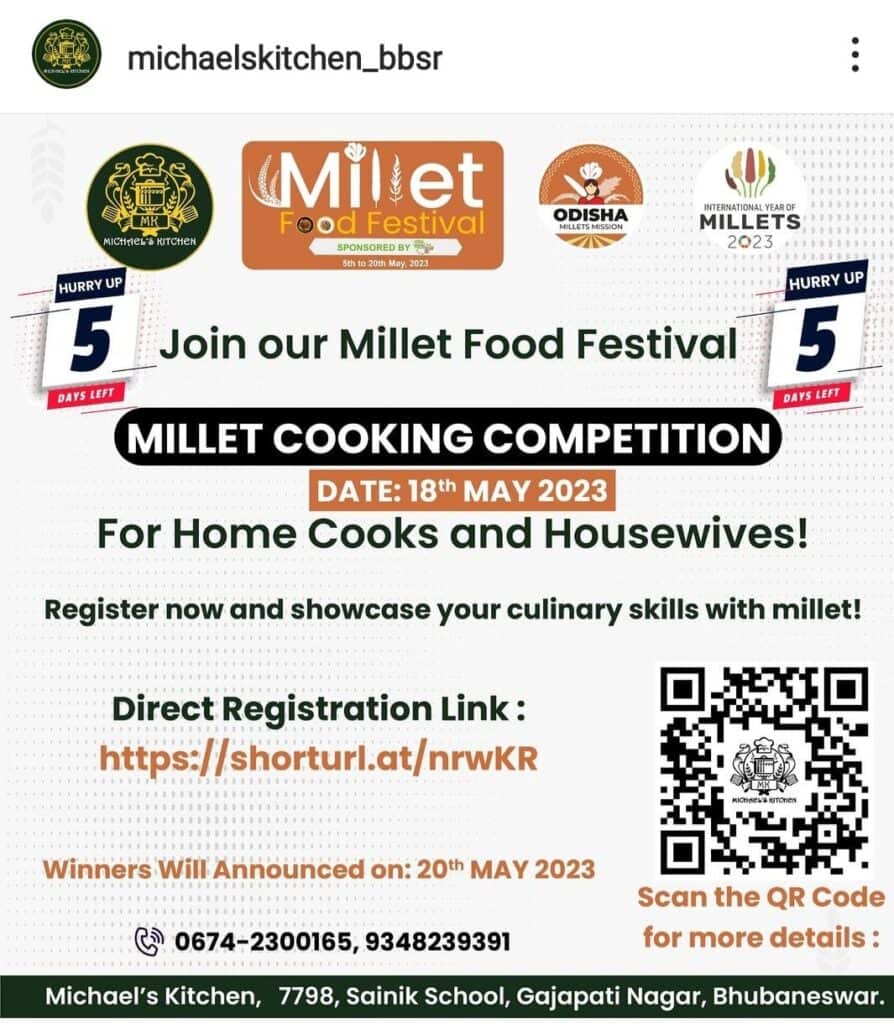 3. Millet-Based Catering Services:
Extend your millet-based offerings beyond the hotel premises by providing millet-focused catering services for events, conferences, and weddings. Highlight the unique aspect of your catering services with a diverse selection of millet dishes that cater to different dietary preferences and requirements.
In my recent visit to Ahmedabad, Gujarat where I got the opportunity to taste the Millet Lunch offered by the Self-Help Groups of SEWA NGO. Really the food was tasty and yummy and enjoyed it. Hope this type of initiative will definitely support the SHGs.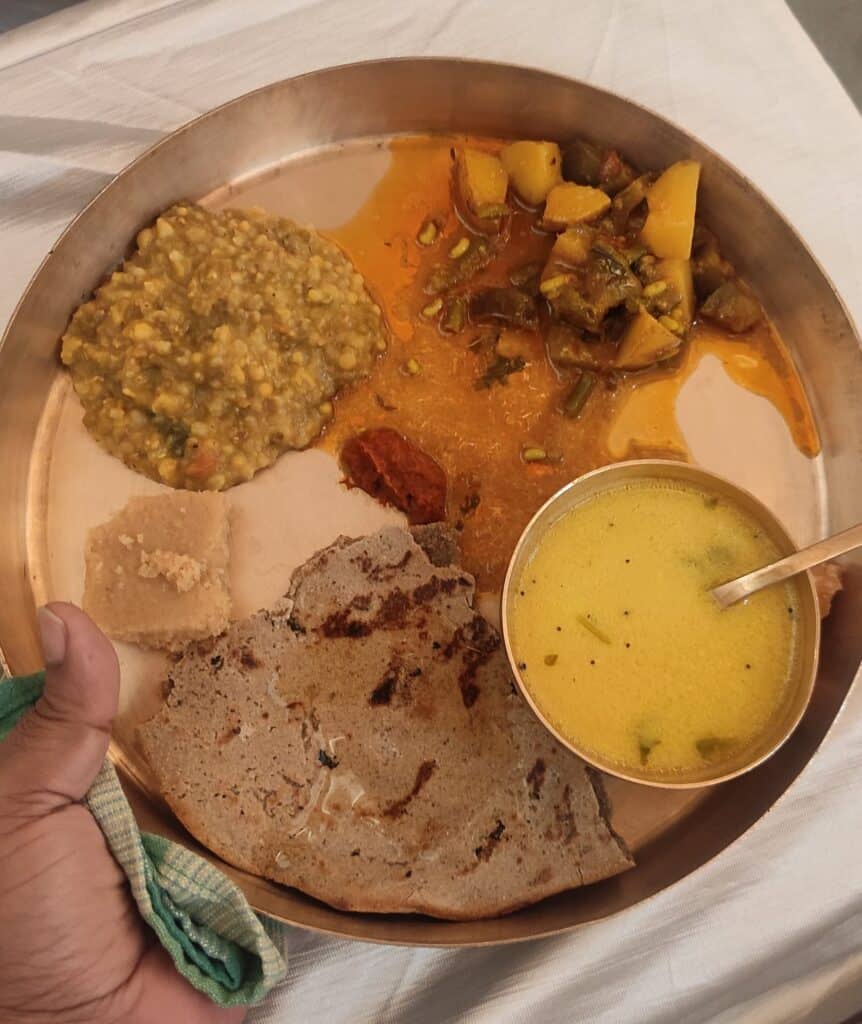 4. Collaboration with Wellness and Health Retreats:
Partner with wellness retreats or health-conscious establishments to offer millet-focused experiences. This could involve creating customized menus, hosting wellness retreats that include millet-based meals, or providing catering services for wellness events. Collaborating with like-minded businesses can expand your reach and tap into a niche market.
Conclusion:
Today, I see a lot of opportunities for entrepreneurs, as India is taking the lead in the celebration of the International Year of Millets-2023. This celebration around the globe is creating awareness among the people. Awareness of the nutritional, ecological, health, and economic benefits of millet is pushing people to start their millet journey. Nowadays, people are bringing back forgotten foods to their plates and believe that these foods can bring a positive impact on their health. I think this change in India, is opening up opportunities for entrepreneurs and investors to invest in Millets.
Author: Tapas Chandra Roy, A Certified Farm Advisor on Millets, 'Promoting Millets from Farm to Plate' and an Author of the book -" Millet Business Ideas-Empowering Millet Startups". In a mission to take the forgotten grains- Millets to Millions. To remain updated on my blogs on Millets please subscribe to my newsletter and for any queries please feel free to write to [email protected]