Support System for Millet Startups in India:
Millet startups have emerged as a promising industry in India, focusing on producing and promoting these nutrition-rich grains, known as Nutri-Cereals. With a rich historical context and immense significance in Indian cuisine, millets are gaining recognition for their health benefits and environmental sustainability. This article delves into the challenges millet startups face and explores the ultimate support systems for Millet Startups in India.
Challenges Faced by Millet Startups:
In my previous blog, I mentioned the challenges faced in the millet sector pertaining to the production of millet, processing, value addition, marketing, and consumption. If you missed it, you can go through it. What are the Opportunities and Challenges in Millet Sector in India?
But today I will focus, on taking into account the challenges faced by the millet startups.
A. Lack of Awareness and Perception:
Despite their immense nutritional value, millets have long been overshadowed by other cereal crops like rice and wheat. Misconceptions surrounding millets as a food source have hindered their widespread acceptance. Consumers often lack awareness and understanding of the numerous health benefits associated with millets. It is crucial to address these misconceptions and enhance consumer knowledge to boost the demand for millet-based products.
B. Limited Access to Funding:
One of the major hurdles faced by millet startups is the limited access to funding compared to other sectors. This lack of financial support hampers their growth and innovation potential. To thrive and scale up operations, millet startups require adequate capital infusion to invest in research, technological advancements, and marketing efforts.
But there are millet startups in India, who were able to get investments for the millet startups.
C. Supply Chain Issues:
Yesterday, in the Virtual Roundtable on Enabling Collaborative Participation across Millet Value Chains conducted by Sattva Consulting, where we could listen to one of the panelists, Pallavi Upadhyay, Co-Founder and Managing Director, ''Millets for Health'' about the issue of millet supply chain in India. Although she started her millet journey in the year 2016, still she faces issues in sourcing good quality millets.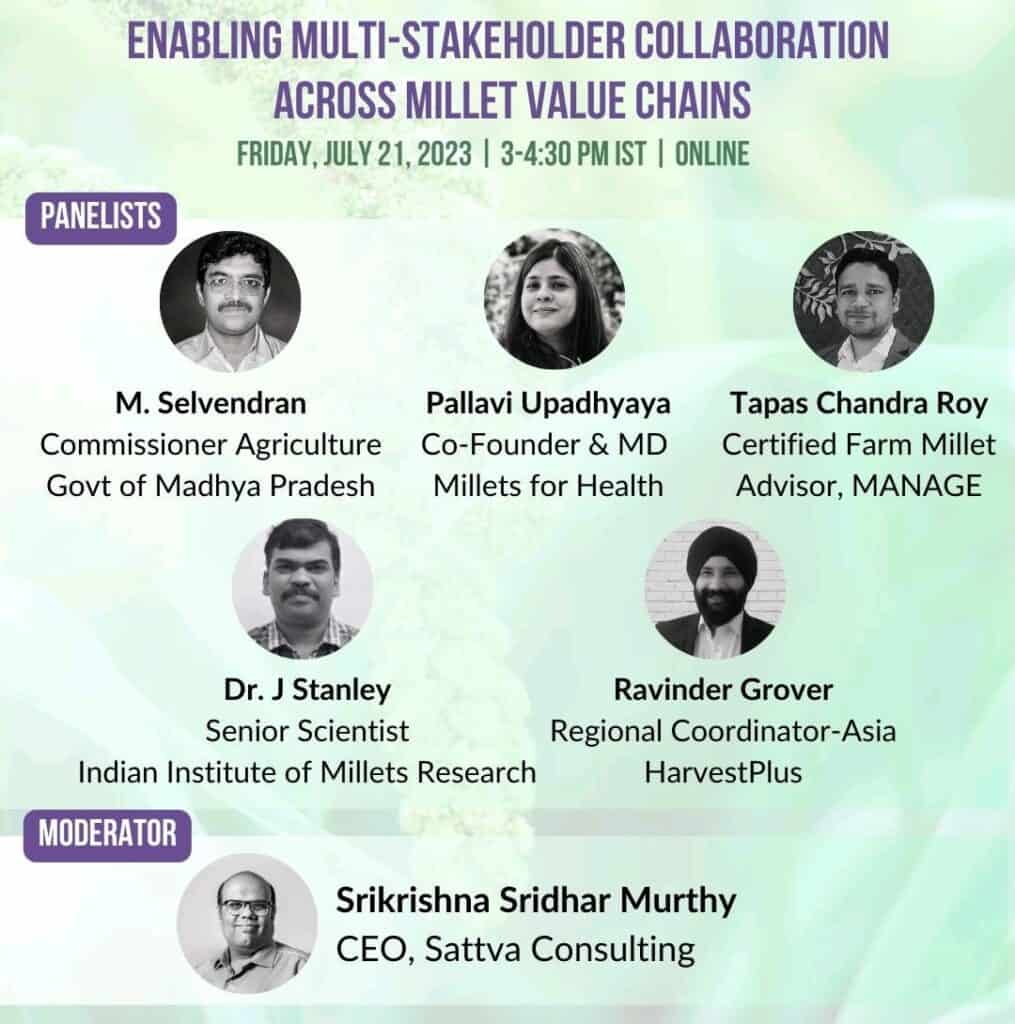 Inefficiencies and bottlenecks plague the millet supply chain, resulting in challenges related to sourcing, processing, and distribution. The lack of organized procurement channels makes it difficult for millet startups to obtain a consistent and reliable supply of raw materials. Additionally, inadequate processing infrastructure and storage facilities affect the overall quality and shelf life of millet products.
D. Regulatory Roadblocks and Policy Gaps:
Millet startups face regulatory hurdles that impede their operations and growth. Ambiguous regulations regarding labeling, certification, and marketing restrict the market reach of millet-based products. To unleash the full potential of millet startups, there is a pressing need for supportive policies that provide a conducive environment for their development.
Still, there are products in the market, which contain only 5-6% millet and claim to be Millet Products. There should be proper regulations from the regulatory bodies in India.
Support System for Millet Startups from Government and Institutions:
The Indian government has taken significant steps to support millet startups through various programs and schemes. These initiatives aim to create awareness, enhance research and development, facilitate market access, and provide financial assistance to millet-based enterprises. Success stories from such initiatives demonstrate the transformative impact of government support.
Nutrihub is a technology business incubator (TBI) established in 2017 hosted by ICAR- Indian Institute of Millets Research (IIMR), Hyderabad, and funded by the Department of Science and Technology (DST ) and RKVY-RAFTAR for identifying, nurturing, and promoting Nutri-cereals startups across the country by vetting ideas from early stage entrepreneurs and startups.
Nutrihub is one of the largest Technology incubators in India. It provides last-mile connectivity with consumers and necessitates demand generation. It leverages technology generation from the Centre of Excellence on Millets, IIMR to commercialize.
Nutrihub beyond this handholding of startups also offers the infrastructure for the production of value-added products as a startup facility and mentoring, Research and Development (R & D) support, training, market facilitation, and industry and government market connectivity.
Nutrihub-TBI facilitates funding support for startups and entrepreneurs through two giant-in-aid programs of RKVY-RAFTAAR. One is the N-GRAIN (Seed Support Funding) program that provides grants of up to Rs.25 lakhs for early-stage start-ups with a minimum viable product in the market.
The other program is NEST (Agri Entrepreneurship program) which provides grants up to Rs.5 lakhs. To date, IIMR's Nutrihub has incubated 175+ startups facilitating grants to the tune of Rs.3.42 crores to at least 40 startups.
Incubation Program:
The Incubation Program is designed to help start-ups grow in a streamlined fashion by setting up the work plan and business goals during the course of incubation and assessing the progress of the goals on a month-on-month basis until they graduate/exit the incubation facility. The start-up will be assessed on a continual basis to ensure the progress is maintained and a relevant support system is provided or work is done towards making it accessible.
Duration of the Program: 12 Months.
All the incubatees undergoing the Nutrihub Incubation Program will go through a structured program and will have access to the below offerings during the course of the Incubation program:
Plug and Play Dedicated Space at Nutrihub Incubator with ready-to-use office infrastructure.
Structured Program support with monthly tracking of progress.
Connection with Nutri Hub Network and Partners
Service Providers
Mentors and Experts
Investors and Financial Institutions
Industry and Academic Bodies
Assistance with business and technical knowledge as a part of the program.
Free/Discounted Access to Start-up Events and Training at the local/ national level by Nutrihub and its partners as applicable.
Promotion of your start-up to visitors at IIMR, showcase on the incubator website, and any official communications/ events conducted by Nutri Hub as applicable.
Paid Access to Nutrihub Labs and Manufacturing/ Production Facilities
Access to start-up resources, information, and communications on agribusiness activities, events, opportunities, and networking avenues at national-level Agri-exhibitions and entrepreneurship melas.
Access to Freebies/ Discounts/ Deals that Nutrihub strikes partnerships on to benefit the incubatee start-ups.
Nutrihub meeting rooms (Based on fair usage policies).
Nutrihub Cafeteria and Canteen (on availability)
Some of the notable millet startups incubated under Nutrihub-IIMR incubation programmes are performing well in the industry.
InnerBeing
Health Sutra
Millet Chef
Bliss Tree
Slurrp Farm
Millet Amma
Green Tatwa
Grami Foods
Sudhanya
Doctor Millets
National Institute of Food Technology, Entrepreneurship, and Management (NIFTEM), Thanjavur (An Institute of National Importance, formerly Indian Institute of Food Processing Technology- IIFPT) provides support to the millet entrepreneurs in technology transfer and developing innovative millet products.
Centre for Innovation and Agripreneurship (CIA):
It is hosted at the National Institute of Agricultural Extension Management (MANAGE). It provides a one-stop solution for creating successful ventures in agriculture and allied sectors. The Agri Innovation Launchpad will empower people to fulfill their dreams and create the next big thing in the agricultural sector for aspiring enthusiasts and entrepreneurs.
CIA navigates innovation from Ideation to full-scale commercialization, with unique methodology, which gives a robust ecosystem from discovering ideas to delivering high-value propositions in a sustainable environment.
The center's main focus is to promote the development of innovative products for Startups, which cater to the most disruptive problems in the agricultural sector. It aims at creating more employment opportunities and wealth creation, thus adding to the inclusive growth of the country's GDP.
The CIA nurtured the Agricultural Community with high-value Capacity Building programs that trained about 72,136 professionals, out of which 28,757 have set up their enterprises. The center aims at taking these agripreneurs to the next level by creating high-impact ventures through the incubation center.
Council of Scientific and Industrial Research (CSIR)- Central Food Technological Research Institute, Government of India, Mysuru. CSIR-CFTRI has developed many technologies based on millets and a large number of these have been successfully transferred to small and Medium Enterprises.
State and Central Government Schemes for Millet Startups:
Production Linked Incentive Scheme for Food Processing Industry (PLISFPI):
The main objective of this scheme is to support the creation of global food manufacturing champions; promote Indian brands of food products; increase employment opportunities for off-farm jobs, and ensure remunerative prices of farm produce and higher income to farmers.
Incentivizing manufacturing of four major food product segments i.e. Ready to Cook/ Ready to Eat (RTC/RTE) including millet-based foods, processed fruits and vegetables, marine products, and Mozzarella Cheese.
Support for branding and marketing abroad to incentivize the emergence of strong Indian brands.
Under the Production Linked Incentive (PLI) scheme for food products being implemented by Ministry of Food Processing Industries (MoFPI) since 2021-22, a component, with an outlay of Rs.800 Crore, for Millet Based Products was carved out in the current financial year to encourage the use of Millets in Ready to Cook/Ready to Eat (RTC/RTE) products and to incentivize these products for promoting their value addition and sales. A total of 30 applications (8 large entities and 22 SMEs) were approved under this segment. Under the PLI Scheme component for Millet Based Products, the packaged and branded RTC/RTE food products with more than 15% of millets by weight/volume in product composition, are eligible for claiming the incentives.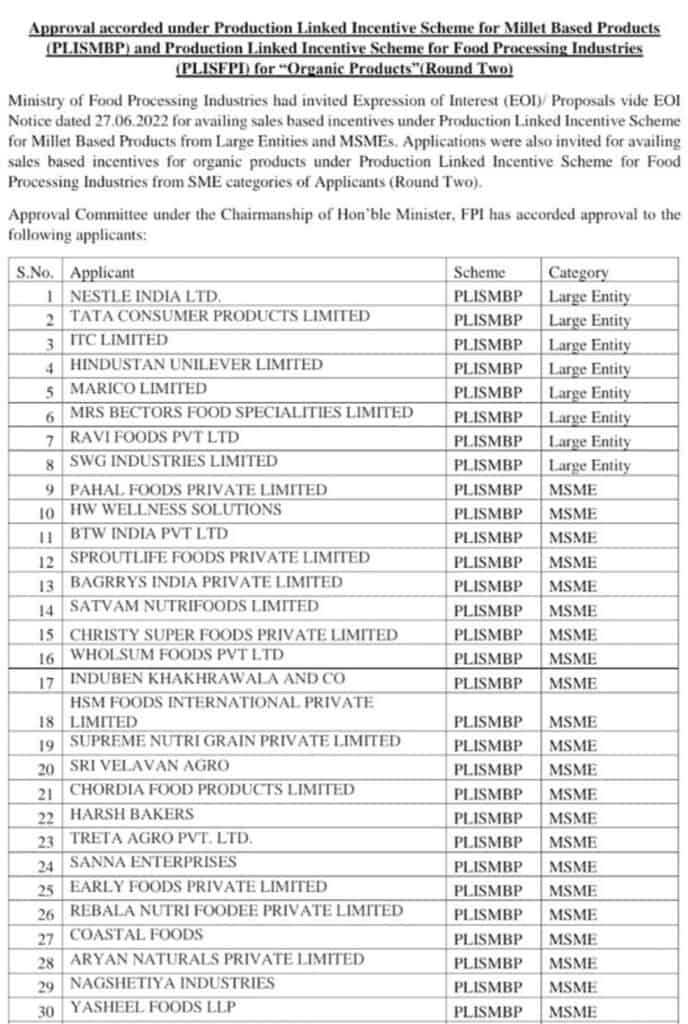 Pradhan Mantri Formalization of Micro Food Processing Enterprises (PMFME):
This scheme was launched under the Atmanirbhar Bharat Abhiyan and is currently implemented in 35 states and Union Territories (UTs).
The scheme is to enhance the competitiveness of existing individual micro-enterprises in the unorganized segment of the food processing industry and promote formalization of the sector and support Farmer Producer Organizations (FPOs), Self Help Groups (SHGs), and Producers Cooperatives along their entire value chain.
It aims at providing increased access to common services like common processing facilities, laboratories, storage, packaging, marketing, and incubation services.
Integration with an organized supply chain by strengthening branding and marketing and supporting the transition of existing 2, 00,000 enterprises into a formal framework.
The scheme adopts the One District One Product (ODOP) approach to reap the benefits of scale in terms of procurement of inputs, availing common services, and marketing of products. There may be more than one cluster of ODOP products in one district. There may be clusters of ODOP products consisting of more than one adjacent district in a state. The states would identify the food product for a district, keeping in perspective the focus of the scheme on perishables.
Millets as part of ODOP Scheme:
Malkangiri and Nuapada (Odisha)
Tirap (Arunachal Pradesh)
Komaram Bheem and Mahabubnagar (Telangana)
Dharmapuri, Virudhunagar (Tamil Nadu)
Nandurbar, Solapur, Thane (Maharashtra)
Davanagere (Karnataka)
Poonch (Jammu and Kashmir)
Dang (Gujarat)
Sukma (Chattisgarh)
FAQs:
FAQ 1: What are millets, and why are they important?
Millets are a group of small-seeded grains that are highly nutritious and environmentally sustainable. They are rich in fiber, protein, and various micronutrients. Millets play a crucial role in improving food security, dietary diversity, and combating climate change.
FAQ 2: How can millet startups attract investors?
Millet startups can attract investors by crafting compelling business models highlighting market potential. Demonstrating scalability, sustainability, and impact, as well as engaging with venture capital firms and impact investors specialized in the food and agriculture sectors, can increase the chances of attracting investments.
FAQ 3: What government programs support millet startups?
The Indian government offers various programs and schemes to support millet startups. These initiatives focus on creating awareness, enhancing research and development, facilitating market access, and providing financial assistance through grants, subsidies, and soft loans.
FAQ 4: How can consumers contribute to the growth of millet startups?
Consumers can contribute to the growth of millet startups by becoming more aware of the nutritional benefits of millets and incorporating them into their diets. By consciously choosing millet-based products and supporting millet startups through their purchasing decisions, consumers can drive demand and encourage the development of this sector.
Conclusion:
Millet startups in India have immense potential to revolutionize the food and agriculture industry. By addressing the challenges of awareness, funding, supply chain inefficiencies, and regulatory hurdles, the ultimate support system for millet startups can be created. Government initiatives, collaborations with financial institutions, research partnerships, and effective marketing strategies can empower millet startups to break barriers and thrive in the Indian market. Through collective efforts and a shared vision, millet startups can shape a healthier and more sustainable future for all.
Author: Tapas Chandra Roy, A Certified Farm Advisor on Millets, 'Promoting Millets from Farm to Plate' and an Author of the book -" Millet Business Ideas-Empowering Millet Startups". In a mission to take the forgotten grains- Millets to Millions. To remain updated on my blogs on Millets please subscribe to my newsletter and for any queries please feel free to write to [email protected]