Millet Export from India:
The demand for millet is increasing, not only in the domestic market but also in the international markets. As we know the demand for healthy food has increased during the current pandemic in India and globally. We can say that COVID-19 has given opportunities to promote millet and millet-based products.
It has been reported that there is an increase of 11.6% growth in the export of millets, 79,459 metric tonnes against 71,203 MT in the same period last year. We can say, Millet Export from India is creating Opportunities.
Today, we will be talking about Millets, their types grown in India, the Status of Millets in India, Major importing countries, Support of Organisations in millet export, Initiatives of APEDA, Basic Requirements for Millet Export, Major interventions required in Millet Export from India, Some points for Millet Entrepreneurs looking for export and finally some success stories and some tools that will help you in understanding the millet business better.
---
Millets and Types of Millets grown in India:
Millets are known to be highly nutritious and healthy and have the ability to survive in high temperatures with minimal requirements of inputs and water. There are nine types of millets grown in India:
Finger Millet
Sorghum
Pearl Millet
Little Millet
Foxtail Millet
Barnyard Millet
Kodo Millet
Proso Millet
Browntop Millet.
If you are new to millets and want to know about the millet grains' shape, size, and color, then give one glance at this video below.
Remember, we cannot export millets as fresh products rather need to be processed food before exporting to other countries.
Status of Millets in India:
As you know India ranks first in terms of the production of millet. As per data from the Department of Agriculture and Farmers Welfare, Government of India, India's production is about 17.15 million metric tonnes that account for around 38% of the world's production. India ranks 3rd in Millet Export in the world.
The major millets that are grown in India are Sorghum, Pearl Millet, and Finger Millet(Ragi).
---
Related Post: 10 Innovative Millet Business Plan
---
Major Importing Countries:
The major export destination of millets is Nepal, Saudi Arab, Pakistan, UAE, Tunisia, Sri Lanka, Yemen Republic, Libya, Namibia, and Morocco. According to the report of the Directorate General of Commercial Intelligence and Statistics (DGCIS), in the year 2019-20, 0.08 million MT of millets was exported from India which was valued at 205.2 crores (28.75 million dollars).
Support of Organisation in Millet Export from India:
There are much-esteemed organizations in India supporting millet export. In the recent submission of "White Paper on Millets" to Nitiyoag by the Indian Institute of Millet Research(IIMR), Hyderabad, it is well mentioned about the interventions and the stakeholders' role in millet export from India.
Intervention
Description
Expected Outcomes
Stakeholders
Standards and Grades
Establishing the Standards and Grades for small millets, and also for the degree of polishing for transparent marketing
-Consumer safety
-Increased processing units
FSSAI
ICAR-IIMR
CSIR-CFTRI
IIT-Kharagpur
HS Codes
Establishing HS Codes for small millets for exporting
Increased Exports
APEDA
ICAR-IIMR
Export demand Mapping
Identifying Export market trends and potential for various millet value-added products
Clear positioning strategies
ICAR-IIMR
APEDA
Positioning Strategies
Framing the USPs for various product segments of domestic and international markets
Better penetration of products
ICAR-IIMR
Export Promotion Forum
Creation of Millet Export Promotion Forum with all concerned stakeholders for integrated export promotion nationally
-Strong sourcing linkages
-Increased export traders, start-ups
ICAR-IIMR
DAC & FW
APEDA
Millet Export from India – Regulatory Measures and Export Strategies. Source: White Paper on Millets
Initiatives of APEDA in millet export from India:
The main motto of the Agricultural and Processed Food Products Export Development Authority (APEDA) is the export promotion of Agri products from the country and has the vision to establish India as a consistent supplier of quality and price-competitive products.
APEDA has come out with many promotional schemes for Export.
Export Infrastructure development schemes
Quality Development schemes
Market Development Schemes
APEDA & ICAR-IIMR jointly organized a national seminar on "Sensitization of Millet-based FPOs and Export Opportunities recently in which Smt. Vinita Sudhanshu, Deputy General Manager (Cereals and BEDF Division) delivered the Export opportunity in Millets.
APEDA will provide assistance in processing facilities for addressing the missing gap like increasing the shelf life of millets, enhancing the production, and advancing the packaging line. It will also support in-house quality testing, lab equipment, and testing of samples. said Smt. Vinita Sudhanshu.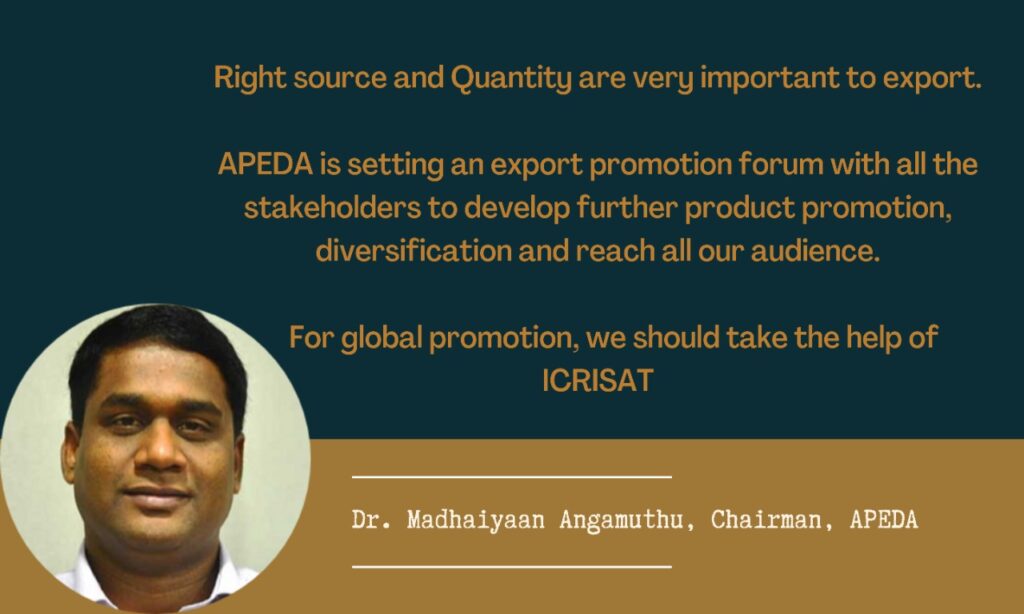 ---
Basic Requirement for Millet Export from India:
Ability to export the quantity of product as required.
Consistent supply
Quality product
Price competitive
Meet the standard and grades of millets as per the importing countries' norms.
Advice to Entrepreneurs for Millet Export from India:
There is a huge export potential for millet value-added products. So, entrepreneurs should keep this in mind before starting startups.
Develop innovative millet products.
Develop products as per consumers' preferences and tastes.
Technology development for superior quality products with enhanced shelf life.
Focus on gluten-free products as the trend of gluten is increasing in western countries.
We can take the help of the Indian Institute of Millets Research, Hyderabad for developing value-added products from millets. This esteemed organization has supported many startups to develop innovative millet-based products.
Success Stories in Millet Export from India:
Recently organic Himalayan millets (Ragi and Barnyard Millet) have been exported from Uttarakhand to Denmark. In this journey, APEDA in collaboration with UKAPMB and Just Organik helped the millet farmers.
24Mantra: When we first started our venture in 2004, export was the only market available. However, as we looked more into the export business, we understood that in order to take advantage of the potential, you need to have extremely good systems and processing infrastructure.
So, despite the fact that it was a difficult start, we were able to establish some fundamental processes and infrastructure in a few years. Exports will not be viable unless you first dominate the domestic market, said Dr.Rajashekar Reddy, Founder & MD, of 24 Mantra.
Now, 24Mantra millet products are exported to international markets and have taken the space on the shelf of retail stores. The demand for organic millet products is increasing day by day.
Manna Foods: There is a range of millet products under the brand name Manna. It has not only done well in the domestic market as well as in the international markets. The millet products are exported to countries like the United Arab Emirates, Singapore, and many more.
Authentic Tools for Millet Export from India:
For the export of millet from India, you need to have all the documents like Registration of the firm, Bank Account Details, GST, PAN, and the Importer-Exporter Code (IEC) which is mandatory. Without the IEC number, no person can make an import or export that is granted by the Directorate General of Foreign Trade (DGFT). The nature of the firm obtaining IEC may be as "Proprietorship, Partnership, LLP, Limited Company, Trust, HUF, and Society."
For obtaining the IEC number, you need to do registration in the DGFT portal (https://www.dgft.gov.in). It's very simple if you have all the documents ready in your hand. Visit the website and click on "Apply for IEC" and you get the screen below.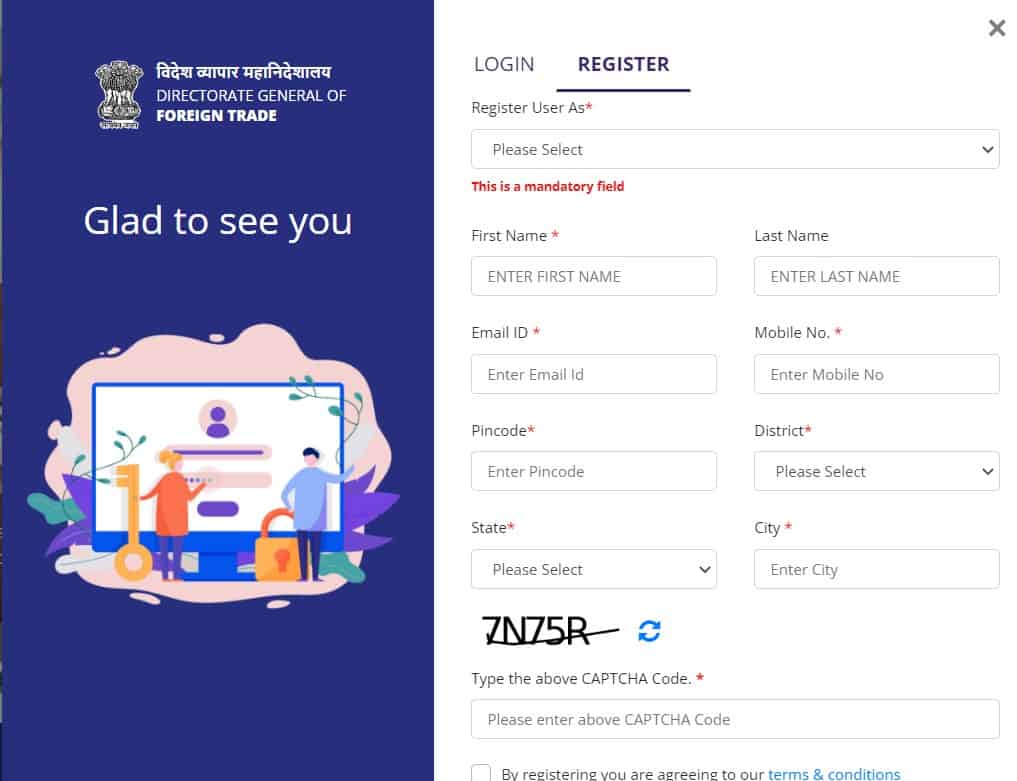 Just fill it up and you are done. Within a few days, you will get your IEC Code.
The next job is to know the HSN Code of the commodity that you are preparing to export. Here I will be showing how to know the HSN Code of millets. To find the code you need to visit the website of the Directorate General of Commercial Intelligence and Statistics ( http://dgciskol.gov.in). On the right side of the screen, you will find the "8 Digit Commodity Classification". Just click on it and this will take you to the Indian Trade Classification (Harmonised System)-2017 and you will find millets in Section -II under Vegetable products in chapter 10.
| | | | | |
| --- | --- | --- | --- | --- |
| Heading No. | HS Code | ITC (HS) | Description | Units |
| 1007 | | | Grain Sorghum | |
| | 100710 | 10071000 | Seed | KGS |
| | | 10079000 | Other | KGS |
| 1008 | 100821 | | Millet Seed | |
| | | 10082110 | Jawar | KGS |
| | | 10082120 | Bajra | KGS |
| | | 10082130 | Ragi | KGS |
| | 100829 | | Other | |
| | | 10082910 | Jawar | KGS |
| | | 10082920 | Bajra | KGS |
| | | 10082930 | Ragi | KGS |
After getting the HS Code, now is the time to know the recent trends of millet export from India, which are the importing countries, quantity, and value of the products. You may get a lot of data from private parties but to get authentic data without paying a single pie is very important. So, let us look into the figure for 2021-22 & 2022-23 of Ragi. The HS Code of Ragi is "10082130".
After noting down the HS Code, visit the website of the Department of Commerce and Industry, Govt. of India (https://tradestat.commerce.gov.in) and click on the commodity-wise all countries under Exports and then select and put the value in Year, Commodity, Sort On, Value and submit. You will get all that you are looking for. I have done it for Ragi and the result is in front of you.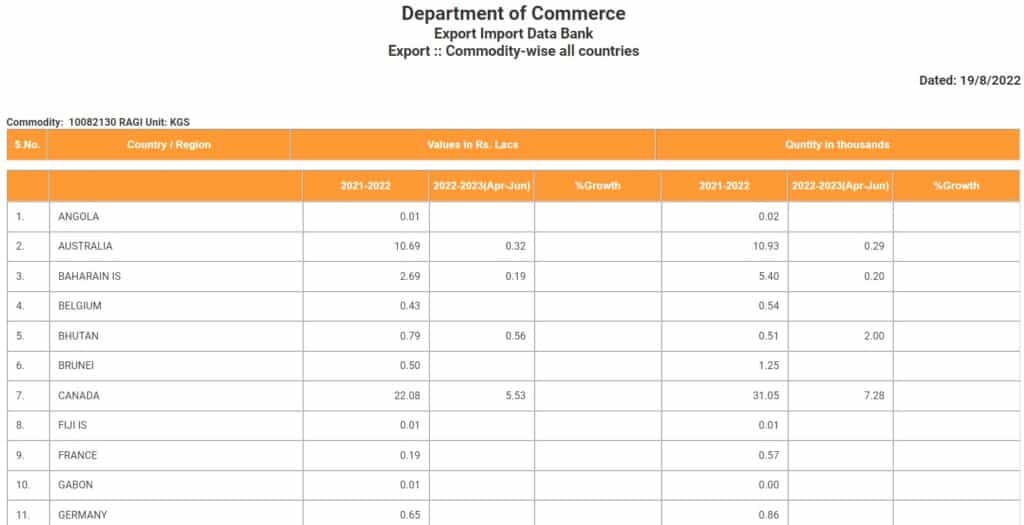 After knowing the trends, you have to know the global regulations and quality parameters of the importing countries and after getting the lead you need to further proceed with the certifications & documentation and make your products ready for export.
If you are very new to this import-export millet business, it is always advisable to start the trade within the country and then look for a third market (low-value market) like Bangladesh, Nepal, Bhutan, etc. Slowly understanding the dynamics of the business you can focus on the mid-value market and then the high-value market.
Conclusion:
There is a huge potential for millet products in the international market. We need to capture it by doing proper strategies at the grassroots level and by market intelligence.
Hope you got some insights on "Millet Export from India" and if you have any queries related to millet export, do let me know also if you have some innovative ideas or know the tools regarding millet export, please write in the comment box below. I will be happy to hear from you.
Author: Tapas Chandra Roy, A Certified Farm Advisor on Millets, 'Promoting Millets from Farm to Plate' and an Author of the book -" Millet Business Ideas-Empowering Millet Startups". In a mission to take the forgotten grains- Millets to Millions. To remain updated on my blogs on Millets please subscribe to my newsletter and for any queries please feel free to write to [email protected]