Proso Millet:
Proso Millet (Panicum miliaceum) can evade drought by its quick maturity. Being a short-duration crop (60-90 days) with relatively low water requirement escapes the drought period and therefore, it offers better prospects for farmers of dryland areas. It is generally grown in the Kharif season but it can also be grown as a summer catch crop where irrigation facilities are available.
Basic Information of Proso Millet:
| | |
| --- | --- |
| Proso Millet Origin | Probably originated Manchuria |
| Botanical Name | Panicum miliaceum |
| Family | Poaceae |
| Common Names of Proso Millet | Broomcorn, Common Millet, Hog Millet, White Millet |
| Duration of Crop | 60-90 days |
Proso Millet Local Names:
| | |
| --- | --- |
| Language | Local Names |
| Hindi | Barri, Chena |
| Gujarati | Cheno |
| Bengali | Cheena |
| Odia | Bachari Bagmu |
| Telugu | Variga |
| Kannada | Baragu |
| Tamil | Pani Varagu |
| Punjabi | Cheena |
| Malayalam | Panivaragu |
Related Post on Names of Millets: Millets Names in Different Languages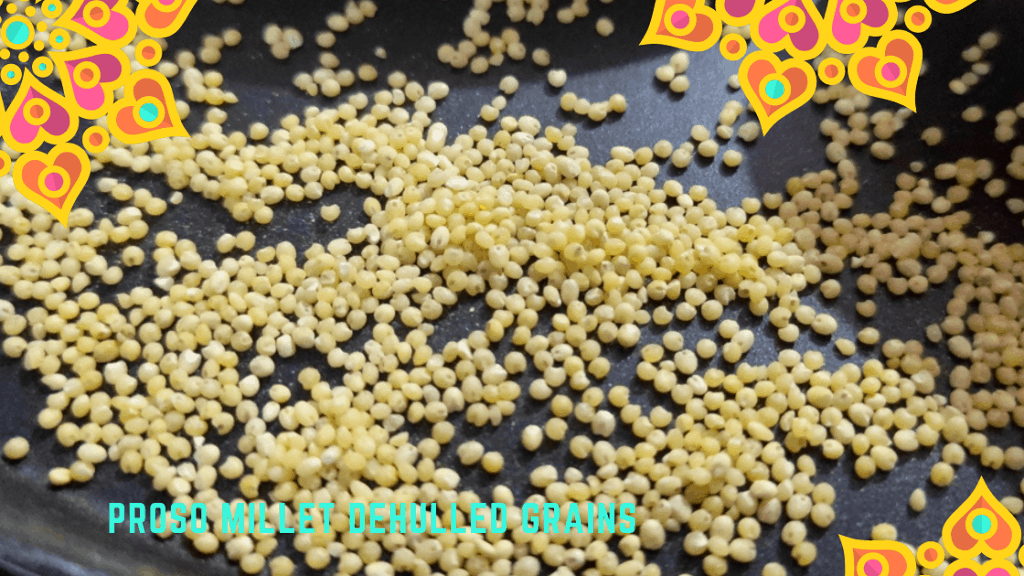 Proso Millet Health Benefits:

(Why Proso Millet Good for You?)
It is good for nervous system. It has a lot of lecithin in it. Lecithin is a complex compound that indirectly promotes and maintains the nervous system's proper functioning. Memory diseases such as dementia and Alzheimer's disease are treated with lecithin.
It is good for the people suffering from celiac disease. Celiac disease is a condition in which a person is allergic to gluten-containing foods. As Proso millet is gluten-free, it can be consumed by celiac patients.
It helps in lowering of cholesterol in the body. High Density Lipoproteins (HDL) levels in the body are raised by Proso Millet. The presence of HDLs boosts cholesterol metabolism and aids in keeping cholesterol under control. It also contains phytic acid that helps in reducing bad cholesterol level in the body.
It has an anti-ageing properties. It contains anti-oxidants that helps in removing free radicals from the body. Including it in regular diet can help in delaying the process of ageing.
It contains a good amount of protein (12.5 gm/100 gm of grains. It help you to stay in shape as protein is the building blocks of bones, skin and muscles. It also helps in building and repairing the tissues in the body.
Related Post: Types of Millets and its Health Benefits
Proso Millet Recipe for Breakfast (Upma):
Why Proso Millet is Good for the Farmers:
Proso Millet is believed to be the first domesticated cereal grain and it is one of the oldest human foods. It was widely cultivated in Asia and Africa around 7000 years ago during the Neolithic Era.
Before the beginning of intensive farming of wheat and rice, Proso Millet was the main food crop. The cultivation of Proso Millet is the earliest dry crop in East Asia due to its resistance to drought and this attribute has helped in widespread.
As the farming of Proso Millet continued, Farmers were able to mark the uniqueness of this crop. Now, let us discuss "Why Proso Millet is good for the farmers".
This crop is generally well adapted to low rainfall regimes, short growing seasons and can grow in poor soils. So, it fits well in marginal environments. I can say, this crop is unique as it requires less water to grow. In Eurasia, Proso Millet is at the more end of drought tolerance.
It is highly resilient in adapting to different ecological conditions. In the future, it's going to address the climate change issue and is ideal for contingency plantings.
It is a farmer-friendly crop. It has been observed in many tribal communities, the farmers do two important things for growing this crop. One is the broadcasting of the seeds and the other is the harvest of this crop after 60-90 days. It is often considered as "Lazy Farmer Crop".
It is a rain-fed crop grown in dryland farming conditions but it also responds well to irrigation. As compared to other traditional crops in terms of yield is good.
Proso Millet has the potential to give yield up to 20-23 quintal per hectare. Framers need to follow the scientific package and practices of proso millet to get a good yield. Now let us discuss it in detail.
Package and Practices of Proso Millet:
Varieties:
The selection of varieties is very important. Let us look into the varieties in India.
| | |
| --- | --- |
| State | Varieties |
| Tamil Nadu | Co-5, TNAU 151, TNAU 164, GPUP 8, TNAU 202, CO-4, K2, CO3 |
| Karnataka | PRC 1, TNAU 145, CO 4, TNAU 151, TNAU 164 |
| Andhra Pradesh | Nagarjuna, Sagar, TNAU-202, TNAU 164, CO 4, CO 3, TNPm-230 |
| Bihar | BR-7, TNAU 164, PR 18, TNAU-202 |
| Uttarakhand | PRC 1, TNAU 145, TNAU 164, TNAU 151, CO4 |
State-wise Varieties of Proso Millet
Time of Sowing:
| | |
| --- | --- |
| Season | Time |
| Kharif | The first fortnight of July with the onset of monsoon |
| Rabi | September o October in Tamil Nadu and Andhra Pradesh |
| Summer | Mid-March – mid-May in the states of Bihar and Uttar Pradesh as an irrigated catch crop |
Spacing:
25-30 cm (row to row), 8-10 cm (plant to plant). The seed should be planted 2-3 cm in depth.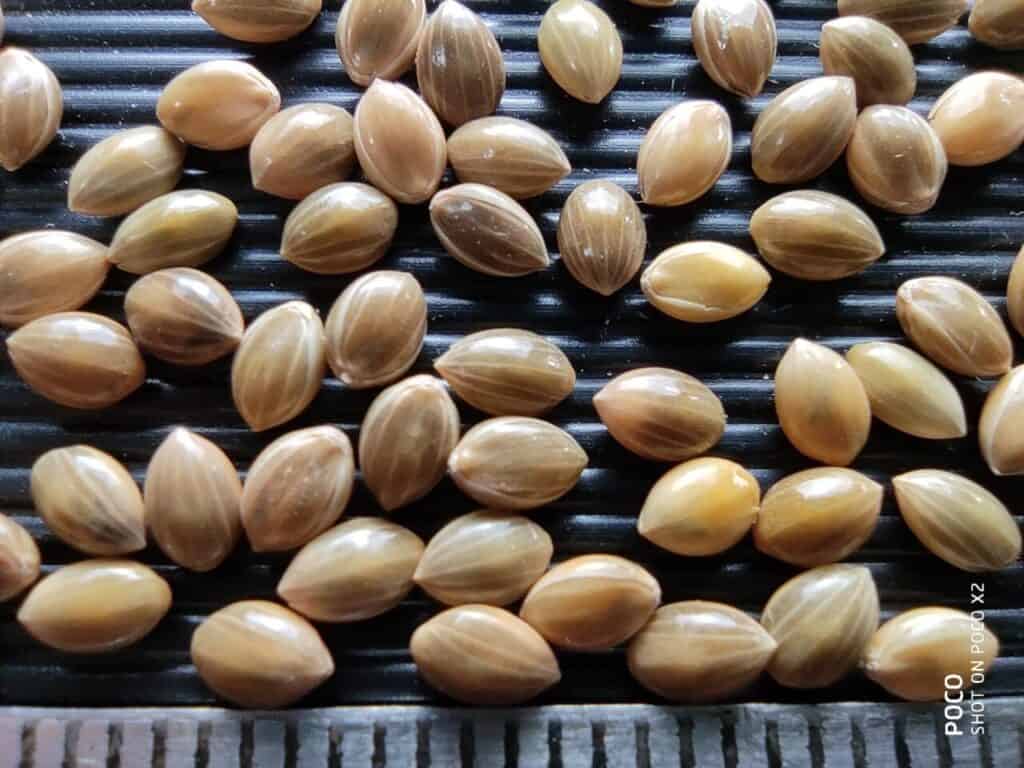 Seed Rate:
8-10 kg per hectare for line sowing
15 kg per hectare for broadcasting
Manuring and Fertilization:
It can be grown organically but responds well to proper nutrient management. Application of compost or Farmyard Manure (FYM) at the rate of 5-10 tonnes per hectare about a month before sowing. Soil test-based fertilizers application is recommended.
Generally, fertilizer recommended to get a good crop is 40 kg Nitrogen, 20 kg P2O5, and 20 kg K2O per ha. Apply entire P2O5 and K2O and half of the nitrogen as basal dose and remaining half of nitrogen at 30 days after sowing.
Weeding and Intercultural Operations:
In a line-sown crop, two inter cultivations and one hand weeding are advised. When the crop is 30 days old, an intercultural operation using a tyne-harrow is required. In a broadcast crop, the first weeding should be done 15-20 days after the emergence of seedling, and the second weeding should be done 30-40 days after sowing.
Harvesting:
Harvest is done once the ear-heads are physiologically mature. Normally crop is ready for harvest in 60-90 days depending upon the selection of variety.
Conclusion:
By this time, you must have gained a lot of information on Proso Millet and how it is good for you and also for the farmers. What is the best thing you learned about Proso Millet today, please give your valuable comment below, I will be happy to hear from you.
Soon will be coming with another article very soon. Take care and have a nice day.
Author: Tapas Chandra Roy, A Certified Farm Advisor on Millets, 'Promoting Millets from Farm to Plate'. In a mission to take the forgotten grains- Millets to Millions. To remain updated on my blogs on millets you can join my Telegram Channel – Millet Advisor.