Millet Cookies:
When you pick up a biscuit/cookies from a shop, they are mostly made of refined flour (maida). But making cookies with millet flour is a healthier option. Millets has become a part of our everydays' diet because it is not just healthy but rich in nutrients, minerals, anti-oxidants and many more.
In this recipe, I have used Ragi floor that too sprouted. Ragi is loaded with nutrients and making millet cookies with ragi becomes a healthy snack for my family. The best thing is that my daughter loves it and her demand for making cookies gives me immense pleasure and happiness.
Sprouting of Ragi:
It's very easy and simple to make sprouted ragi flour at home. I had soaked the whole ragi grains in sufficient water overnight. You may do it for minimum 8 hours. After soaking I drained the whole water, tied it up in a wet cloth and kept it in a dark and warm place. Ensure that it is not too wet or dry. In summer season, sprinkle some water when needed. It takes two days for complete germination.
The next step is to dry the sprouted ragi in the sun for one day and then make the flour.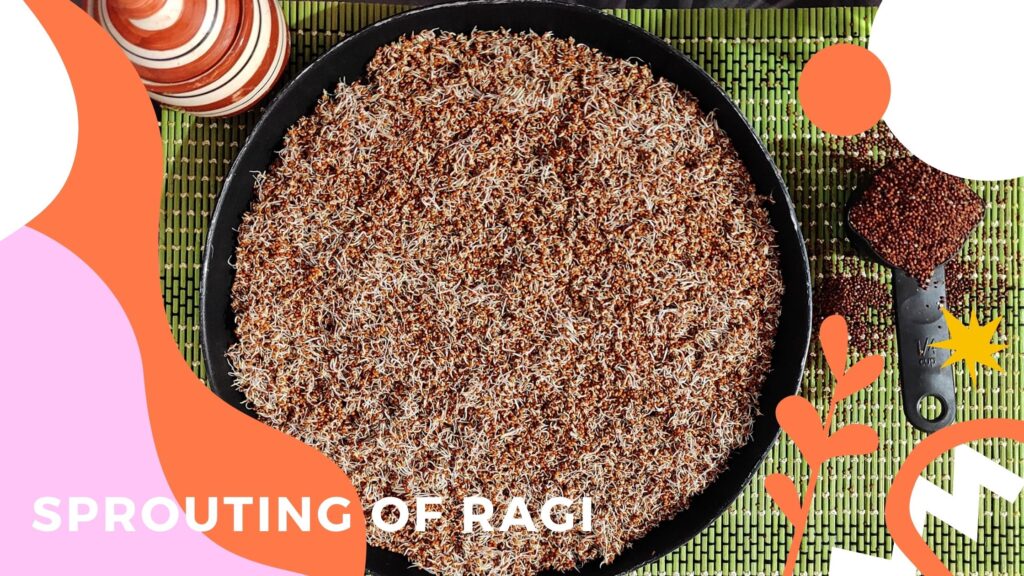 Nutritional Value of Ragi:
| | |
| --- | --- |
| Components | Nutritional Value per 100 gm |
| Carbohydrates (g) | 66.8 |
| Protein (g) | 7.2 |
| Fat (g) | 1.9 |
| Energy (Kcal) | 320.7 |
| Dietary Fibre (g) | 11.2 |
| Calcium (mg) | 364 |
| Magnesium (mg) | 146 |
| Zinc (mg) | 2.5 |
| Iron (mg) | 4.6 |
| Thiamin (mg) | 0.4 |
| Riboflavin (mg) | 0.2 |
| Niacin (mg) | 1.3 |
| Folic acid (µg) | 39.5 |
The above table shows, how these tiny small-seeded grains are rich in nutrients and minerals. This makes the millet cookies healthy.
First Award Winning Millet Recipe: Millet Rasgulla with Jaggery
Ingredients required for Millet Cookies:
1/2 cup sprouted ragi flour
1/2 cup wheat flour
1/2 cup organic jaggery powder
3/4 tsp of Baking Powder
3 tbsp cocoa powder
8 tbsp melted ghee
1 tsp vanilla essence
2 tbsp milk/water if needed
Millet Cookies Preparation:
Roast the ragi flour slightly on a low flame for just 2-3 minutes or till you get the aroma. Set it aside to cool down on a plate.
Take a mixing bowl and sieve the ragi flour and wheat flour into it and then add the baking powder and mix it well.
In another bowl, put the melted ghee, vanilla essence, cocoa powder, and finally the organic powder jaggery. Mix it well.
Now add the wet ingredients with the dry mixture. Mix it well until it forms a dough. If the dough does not come together, then pour some milk or water.
Cover the dough with a cloth and keep it in the refrigerator for 10 minutes.
Baking of Millet Cookies:
Preheat the oven for 15 minutes at 180°C.
Divide the dough into 14 to 16 balls. Flatten them slightly and cut them with a cookie-cutter. Cookies cutter comes in different shapes and cut it as per your choice.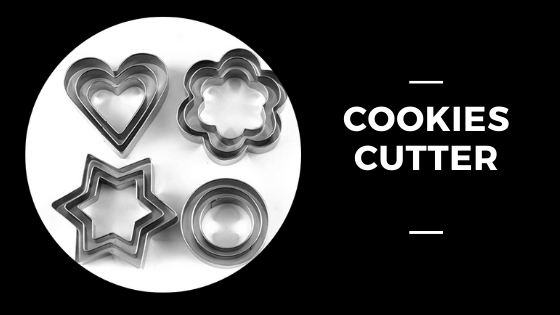 Grease the baking tray with ghee and place the cut cookies on the tray, one inch apart as it becomes bigger after baking.
Bake in the oven for 20 minutes depending upon the oven and the thickness of the cookies.
After taking out the baking tray from the oven keep it aside to cool down.
Keep the millet cookies in an air-tight container.
Related Post : 10 Innovative Millet Business Plan
Conclusion:
Hope you liked the healthy millet cookies recipe. You can give it to your children and definitely they will love it. Do share how it turned out for you.
Author: Tapas Chandra Roy, A Certified Farm Advisor on Millets, promoting millets from Farm to Plate. In a mission to take the forgotten grains- Millets to Millions. To remain updated on my blogs on millets you can join my Telegram Channel – Millet Advisor.