What is Millet:
Millets are a group of highly variable small-seeded grains, widely grown in India. They are rich in nutrients and popularly known as Nutri-Cereals. They belong to the Poaceae family. Millets are mostly rainfed crops that require fewer inputs and less water. They are tolerant to drought and they are next-generation crops.
Millets are good for you, good for the planet, and good for the farmers.
In this blog, I will give you a brief about millets, their nutritional facts, health benefits, and why it is grown by farmers in Koraput.
Types of Millets:
There are nine types of millets grown in India. This crop is divided into two main categories – major and minor millets depending on the size and area of production. Sorghum and Pearl Millet come under major millets and the rest are the minor millets (Foxtail Millet, Little Millet, Barnyard Millet, Finger Millet, Kodo Millet, Proso Millet, and Browntop Millet).
Teff and Fonio are the other two millets grown in Africa. In India, few farmers are growing these millets.
In India, Millets are known by different names, and recently taken an effort to bring all the names of Millets on one page, and definitely, it will help in knowing millets better. Millets name in different languages.
Why Millets are grown in Koraput:
Koraput the land of diversity is decorated by forests, waterfalls, terraced valleys, and springs that attract nature lovers.
Agriculture is the mainstay of the economy of the Koraput District because around 83% of people depend on it. The soil and climate are favorable for taking up different diversified crops. The main crops grown are Paddy, Millets, Maize, and Pulses.
But Millets play an important role for the small and marginal tribal farmers as millets have the capability to address food, nutrition, fodder, and most important climate change. Millets in Koraput are just not food but an integral part of the tribal communities.
Days are changing and the crisis in agriculture is increasing due to climate change. There is a frequent occurrence of drought. But think for a moment which is the crop that is going to handle this harsh climatic condition. It's definitely the hardy Millets that can sustain this water starvation. That is why I say, Millets are the Future Crop.
Millets Area in Koraput:
Millets are the next crop grown after Rice in terms of area. Millets are cultivated on 72,689 hectares. Out of which Finger Millet is cultivated on 59,139 hectares and that accounts for about 79%. Rest in 12,815 hectares other millets are grown like Little Millet, Foxtail Millet, Sorghum, Pearl Millet, and Barnyard Millet.
Importance of Millets in Koraput:
The beauty of Millets is that it can be grown in less fertile soil and requires very less water. The soil of Koraput is mostly acidic and the lands are sloppy and surrounded by hills. The only crop that is suitable for this type of land is the millets and that's truly the miracle grain.
Millet is the only crop addressing malnutrition as it is rich in nutrients, minerals, antioxidants, and many more. Millets are the storehouse of nutrition. In any parameter of nutrition, millets are far ahead compared to rice and wheat.
Millets support the fooder security of cattle and contribute immensely to the animal health of a community.
A mixed cropping system is followed in Millets in Koraput. It is grown in combination with pulses and oilseeds. Thus making it a holistic farming system.
Millets types grown in Koraput:
Finger Millet is also known as Ragi. But here the locals called it 'Mandia'. Due to its nutritional benefits and ease of process, it is mostly consumed in rural areas. It is an important food in most tribal families and it is the first food of the day as it gives them more energy to work throughout the day.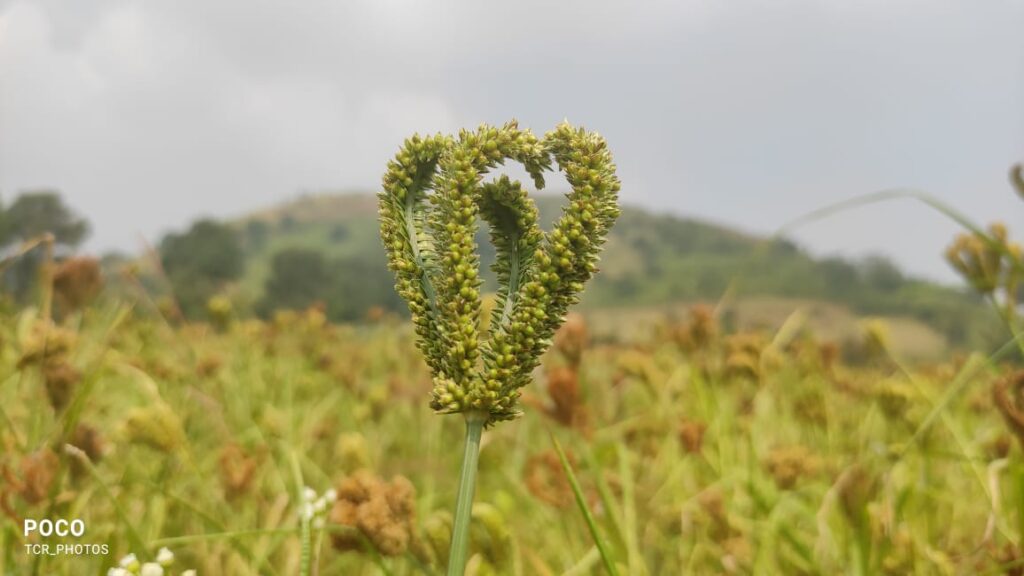 Finger Millet is rich in Calcium as it contains about 364mg/ 100 gm of grains. It has more fiber than wheat and rice and this slows down digestion and controls the blood sugar level in the body. You can find a lot of finger millet varieties in Koraput. Some varieties are Jam Mandia, Jana Mandia, Dusherra Mandia, Bhalu Mandia, Kalia Mandia, Bati Mandia, Sana Mandia, and many more.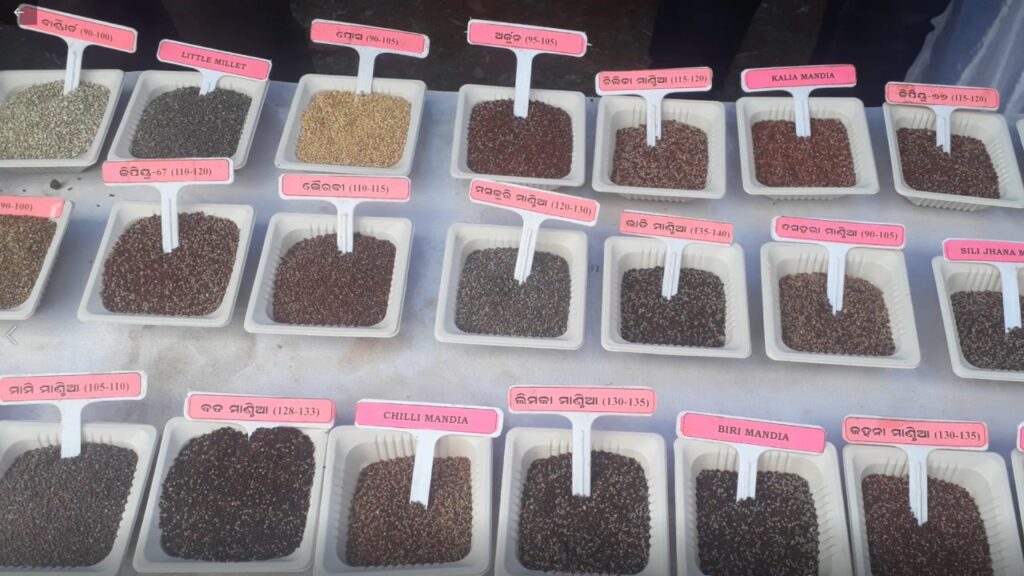 Ratnakar Jani of Paraja Godri of Dasamantpur Block had grown Finger Millet organically on his 4 acres of land and has become an inspirational farmer after his retirement from Defence Force. To know his journey – Enthusiastic Tribal Inspirational Organic Farmer grows Millet in 4 acres.
The introduction of a Cycle weeder for weeding has made his work easier and saved his time and money.
He was supported by Odisha Millet Mission. The facilitating Agency – DHAN Foundation came forward and guided him from seed to market and he was able to harvest about 40 quintals from his 4-acre land.
The second millet which comes after Ragi is the Little Millet and it is locally called 'Suan'. It is wonderful millet that is suitable for all age groups. Little Millet has an important role in providing nutritional components such as phenols, tannins, and phytates with other nutrients.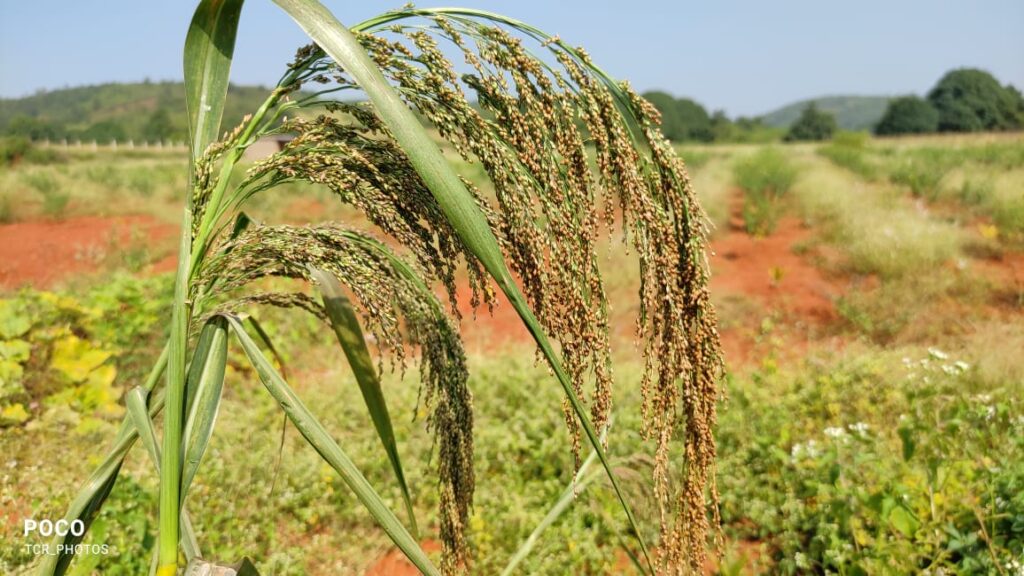 The third one is the Foxtail Millet; it is locally called Kangu. Foxtail Millet provides a host of nutrients and possesses many health benefits, has a sweet nutty flavor, and is considered to be the most digestible and non-allergic grain available. The delicious Kangu Kheer is prepared out of this millet.
The fourth one is the Barnyard Millet which is locally called Khira. This crop is grown in very less areas but it has the potential to deliver better income to the farmers.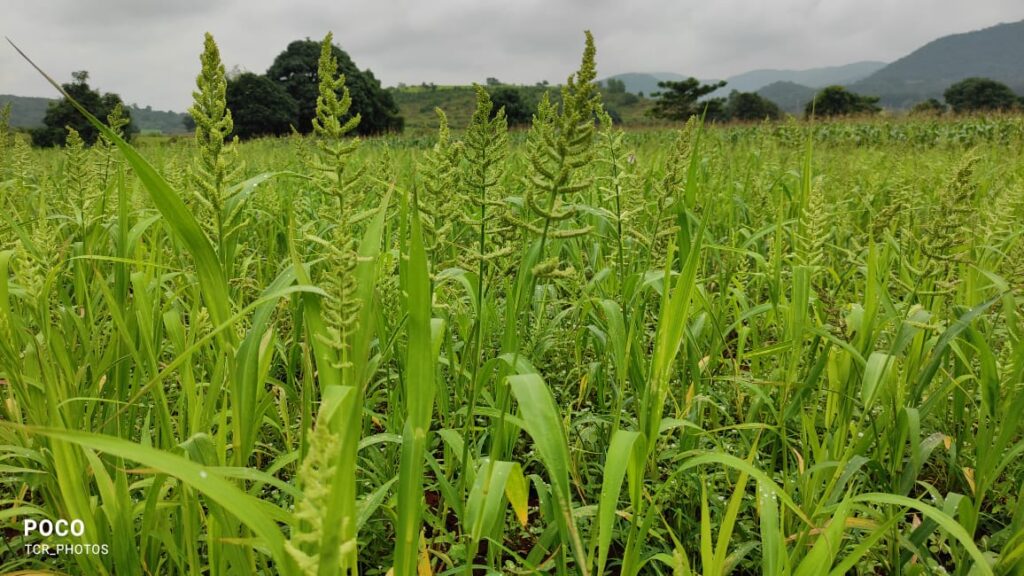 The presence of husk in Little Millet, Foxtail Millet, and Barnyard Millet makes it difficult to process. The women of  Bhanjapadar Village said it takes about 1 hour to process 1 kg of Little Millet. When any Guest comes to our home or at the time of the festival we process the little millet for consumption. Introducing millet processing machines will make their work easier and reduce drudgery.
There are few farmers in Narayanpatna and Bandhugaon Block of Koraput who cultivate Jowar and Bajra. In the coming days, Sorghum is the crop that will address the fuel deficiency as it has the capacity to produce Biodiesel.
Last year, a trial of Pearl Millet was conducted in RRTTS, Semiliguda. The outcome of the trial was phenomenal. It showed that Koraput Climate and Soil are most favorable for Pearl Millet Cultivation. The only thing to remember is that the harvesting period should not coincide with the rains.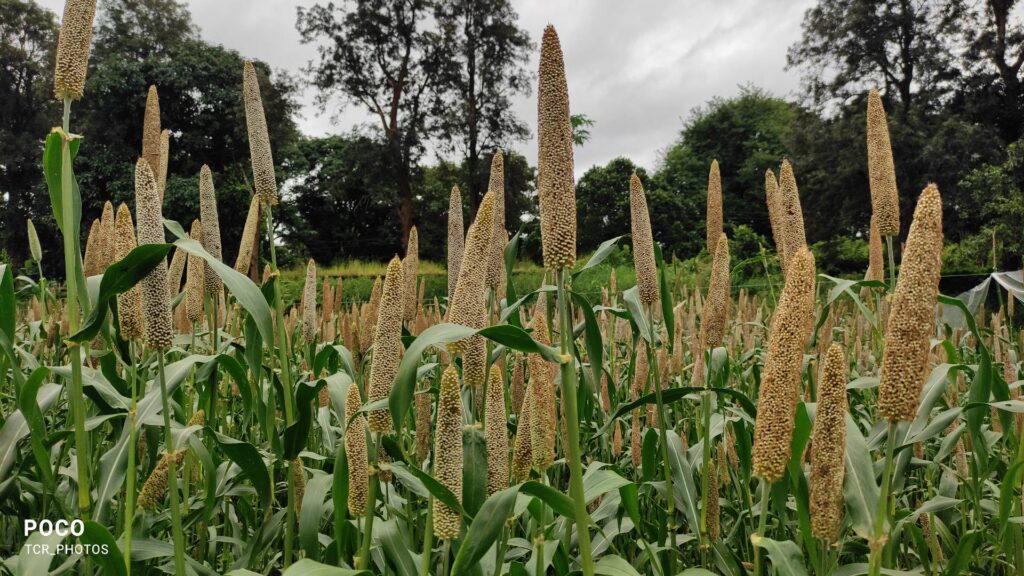 Pearl Millet contains phytochemicals that lower cholesterol. It contains folate, magnesium, copper, zinc, and Vitamin E and B-complex. It is recommended for pregnant women due to its high iron content.
Millet Farming in Koraput offers livelihood security as it supports employment during the cropping season starting from plowing to processing.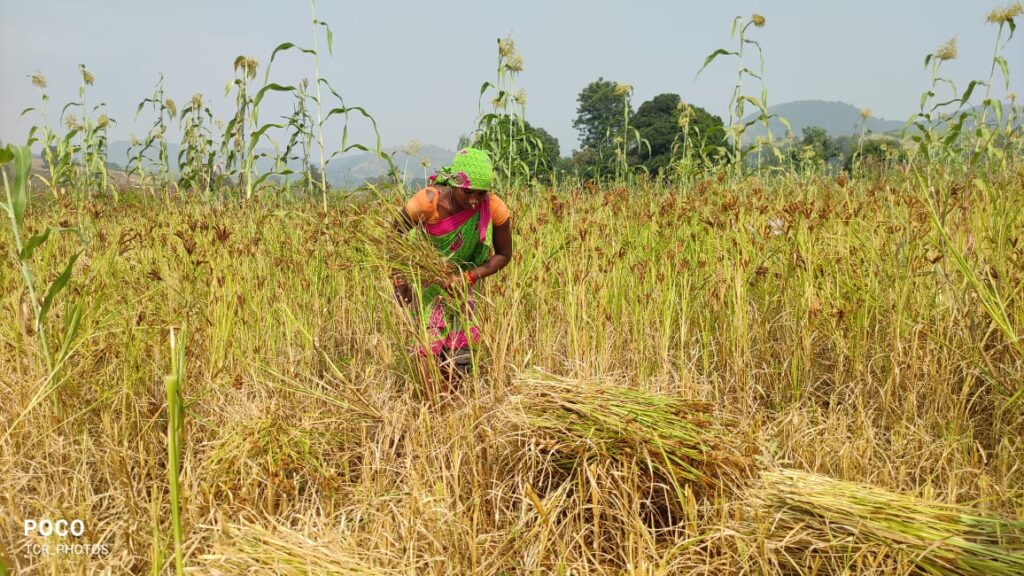 The tribal people still possess' skill and talent in cooking with millets. They make a lot of recipes out of millets. The famous recipes are Mandia Jau, Mandia Anda, Mandia Raav, Mandia Roti, and many more. They also make their drink with Ragi. When I was doing my project work on "Utilisation of Finger Millet in Nutritional Security" Koraput documented some Traditional Millet Recipes of the tribals.
Odisha Millet Mission in Koraput:
The Special Programme for Promotion of Millets in the tribal areas of Odisha was launched by the Government of Odisha in 2017 to revive millets in farms and on plates. This mission has motivated farmers of Koraput to grow millets that too following good agronomic practices. Most of the farmers followed the System of Millet Intensification(SMI) and the yield increased manifold.
During the period from 2018 to 2021, farmers received incentives for following good agronomic practices. For SMI they received Rs.5000/- per hectare and Rs.2500/- per hectare for Line Transplanting/Line Sowing. This has encouraged farmers to grow more millets.
In 2022, the incentive has increased to Rs.6500/- per hectare for SMI & Rs.3250/- for Line Transplanting/Line Sowing.
The assured procurement of Ragi at minimum support price(MSP) has changed their mind setup for this crop. The MSP hike in millets is bringing more hope among the farmers as they are able to make decisions before the cropping season.
| | | | |
| --- | --- | --- | --- |
| Year | No. of farmers | Procurement(in Quintal) | MSP(Rs.) |
| 2018-19 | 1663 | 8904.69 | 28.97 |
| 2019-20 | 5478 | 36164.59 | 31.50 |
| 2020-21 | 7156 | 68874.77 | 32.95 |
| 2021-22 | 8780 | 97094.30 | 33.77 |
When you see the above data on the procurement of ragi in Koraput, it gives happiness and the best thing is that Koraput district has procured the highest quantity of Ragi for four consecutive years in the state under Odisha Millet Mission. This shows the effort of all the stakeholders involved in this Millet Mission in Koraput.
The introduction of Ragi in the Public Distribution System is ensuring the presence of millet in the diet around the year.
Conclusion:
Millets are the part and parcel of the people of Koraput. Millets play a critical role in food security. The millet diversity is ensuring the dietary diversity on the plate of the tribes of Koraput and thus addressing nutritional security. Millets are addressing the livelihood and income of the farmers. This makes Millets the Miracle grains of Koraput.
Author: Tapas Chandra Roy, A Certified Farm Advisor on Millets, 'Promoting Millets from Farm to Plate'. In a mission to take the forgotten grains- Millets to Millions. To remain updated on my blogs on millets you can join my Telegram Channel – Millet Advisor and can write to me at [email protected]