Skoch Award 2021: Odisha Millet Mission
Odisha Millet Mission is a wonderful initiative taken by the Government of Odisha which has created a place in the heart of the tribal farmers of Odisha. It started in the year 2017 and till now it has not turned back. I must say it is the efforts taken by all the stakeholders involved in this journey of the Odisha Millet Mission.
The long-term focus and objectives were very clear from the beginning. If you are new, let me recall all the objectives set by Odisha Millet Mission.
Promoting household-level consumption
Setting up decentralized Processing Unit
Improving the Productivity of Millet Crops
Promoting FPOs for marketing
Inclusion of millets in ICDS, Mid-day Meals and Public Distribution System
Strategies for Household level Consumption: Millet is traditionally consumed at household level in the tribal areas and they make lot of traditional millet recipes. But it was disappering from their plates. To achieve this, village level awareness campaigns and master trainers are developed in each of the 84 blocks in 15 districts.

Cooking festivals, food festivals, events and melas are conducted in each block as part of Odisha Millets Mission. Millet recipes booklets are also shared with pregnant and lactating mothers and mother committees of ICDS.
Young women are also oriented on millet recipes through collaboration with Anganwadi workers. Millet value addition and consumption campaigns are actively done in collaboration with ICDS. Wall paintings, posters on millet consumption are also put up in different location in the panchayat and villages.
Millet kiosk, millet on wheels and millet value addition entrepreneurs are promoted at the market locations within the block and district. These are anchored by WSHGs of the Mission Shakti Department and FPOs of OMM
Millet products in ICDS/MDM/Tribal Hostels :Ragi ladoo has been included in 2 districts under ICDS through DMF. In addition, Ragi biscuits and little millet kitchidi is being proposed for MDM and Tribal Welfare hostels.
For promotion of millet valued added products in urban areas, 20 Millet outlets shall be opened in urban cities of the Odisha with help of WSHG Federations. These WSHG federations will be trained at CSIR-CFTRI on business development. They shall be selling different kinds of high value /commercial products such as biscuits, burgers, sandwiches, pastas, noodles, so on so forth.
Strategies for Improving the Productivity of Millets:
The area under Millet cultivation in Odisha is improving and also the productivity has increased manyfold. Farmers are following good agronomic practices like System of Millet Intensification in Finger Millet. The farmers are supported by incentives for following SMI and Line Sowing/Line Transplanting.
The best part of Odisha Millet Mission is that the farmers are getting assured market prices for their produce. The procurement of Ragi is carried out under Mandi System. This year Farmer Producer Organisations(FPOs) and WSHG will be involved in the procurement process. Previous year about 2 lakhs quintal of Ragi was procured from farmers and this year targeting 4 lakh quintals.
Setting up Decentralized Processing Unit:
Millet processing is really a tedious job and a lot of drudgeries are involved in it. To address it Ragi Threshers were given to the Women Self Help Groups, and also Millet processing units are installed for getting better and quality millet products.
Odisha Millet Mission addressing Nutritional Security:
Nutrition has become mainstream in different agricultural activities and Odisha Millet Mission is ensuring it by supplying Ragi under Public Distribution System, including millets in ICDS and Mid-day meals program.
Recognition and Impact of Odisha Millet Mission:
The Government of India has asked all states to adopt the Odisha Millets Mission model for the promotion of millets, pulses, and oilseeds.
The Niti Aayog, Government of India has chosen Odisha and Karnataka as two progressive models for the promotion of millets and will facilitate the learnings from these states for other states.
The State Planning Commission of Chhattisgarh has asked the Government of Chhattisgarh to start a millet mission on the lines of "Odisha Millets Mission".
The Governor of Maharashtra has asked the Government of Maharashtra to explore initiating a project on millets considering the Odisha Millets Mission.
The Government of India has set up a task force to understand the framework of the Odisha Millets Mission and to revise the National sub-mission on millets based on the learnings of the OMM.
Cambridge University partnered with Odisha Millets Mission to explore the possibility of the design of OMM as an alternative to the Green Revolution framework.
UN-IFAD and UN-FAO have supported the framework of Odisha Millets Mission as suitable for taking up agroecological initiatives.
Recently Odisha Millet Mission bagged the Best Millet Promoting State Award in an event "Nutri-Cereals Multi Stakeholders Mega Convention 3.0 held at Hyderabad. This event was jointly organized by Nutrihub, ICAR-Indian Institute of Millets Research(IIMR) & the Food and Agriculture Organization(FAO) in association with NITI Aayog, Government of India.
I know by now you must be feeling great hearing the journey of Odisha Millet Mission and its impact on the farmers and in society. It's time to call for action that will lead Odisha Millet Mission in SKOCH Award 2021.
Please put your valuable vote for the great initiative and I am sure that your action will bring more happiness to all the stakeholders involved in this project. Requesting you to first REGISTER and then Vote.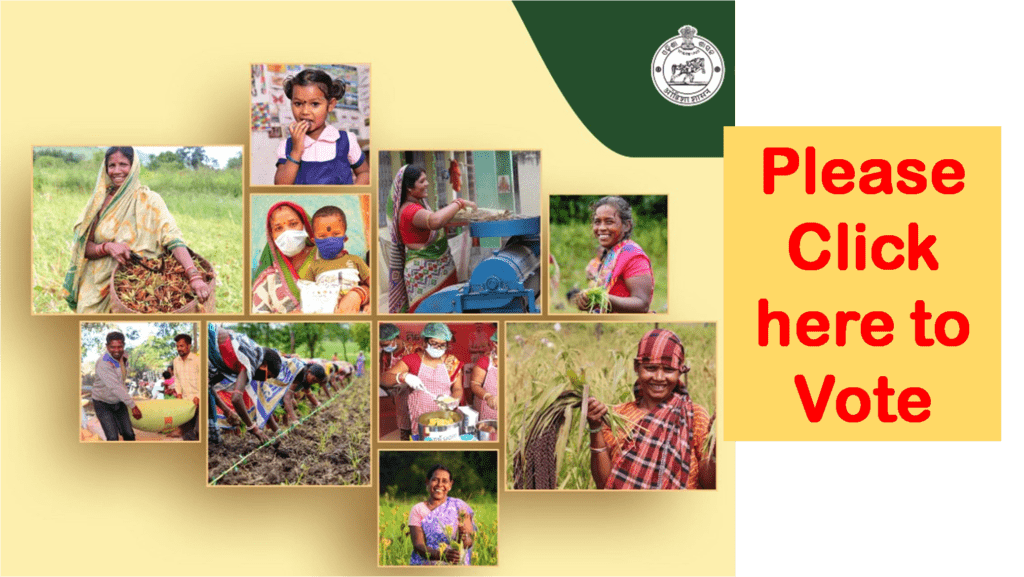 Author: Tapas Chandra Roy, A Certified Farm Advisor on Millets, 'Promoting Millets from Farm to Plate'. In a mission to take the forgotten grains- "Millets to Millions".