Millet Shakti Cafe:
Odisha's First-ever Millet Shakti Cafe was inaugurated inside the Collectorate campus in Keonjhar under "Special Programme for Promotion of Millets in Tribal-cum-Mining areas under District Mineral Fund on 29th, October 2021.
All of us are aware of the nutritional value of millets and their climate-resilient characteristics. Due to their nutritional qualities, it is termed the Nutri-Cereals by the Government of India. Millets can address the lifestyle diseases like obesity, diabetes, hypertension, and cardiovascular diseases. A recent meta-analysis on millets has given us enough evidence.
Mission Shakti and Odisha Millet Mission signed a memorandum of agreement for the promotion of millet entrepreneurship and awareness campaign through Women Self Help Groups in 14 districts of Odisha.
Mission Shakti has a women's membership of 70 lakhs in Odisha. Odisha Millet mission is a flagship initiative of the Department of Agriculture and Farmers' Empowerment, Govt. of Odisha. Recently, Odisha Millet Mission was awarded the Best Millet Promoting State in the country in the event "Nutri-Cereals Multi Stakeholders Mega Convention 3.0 held at Hyderabad. Rs.32.72 crores are provisioned for supporting the Millet Entrepreneurship and Awareness Campaign through Women SHGs for 3 years in 14 districts.
Odisha Millet Mission model has achieved many milestones and had a plan for Millet Stores in rural and urban areas.
A Millets Cafe to run by SHGs supported by Mission Shakti.
Millet Shakti as the proposed brand name to be common across products.
Cafes across locations to be called "Millet Shakti Cafe".
Millets based hot cooked items and bakery products to be the highlight.
Will also have packaged millet grains and ready to cook products supplied by FPOs supported by Odisha Millet Mission.
15 quick-serve restaurants will be established within the next year with Women Self Help Groups in Urban Areas.
Kiosks at Block towns and Tribal Haat locations serving breakfasts and snacks items.
Mobile Sales Units at District and town levels selling dry and value-added products made by SHGs and FPOs.
More than 100 WSHG entrepreneurs will be trained and supported.
The dream and plan executed, Millet Shakti and Odisha Millet Mission joined hands to start Odisha's 1st exclusive Millet Shakti Cafe in Keonjhar District. This cafe will be managed by the women's SHG Federation supported by Mission Shakti.
The Millet Shakti Cafe will provide a wide range of millet-based products to the consumers in the form of breakfast or snacks items. It will also provide quality millet grains, ready to eat(RTE), and ready to cook (RTC) products. 15 Millet Shakti Cafe will be established within next year in the urban areas of Odisha.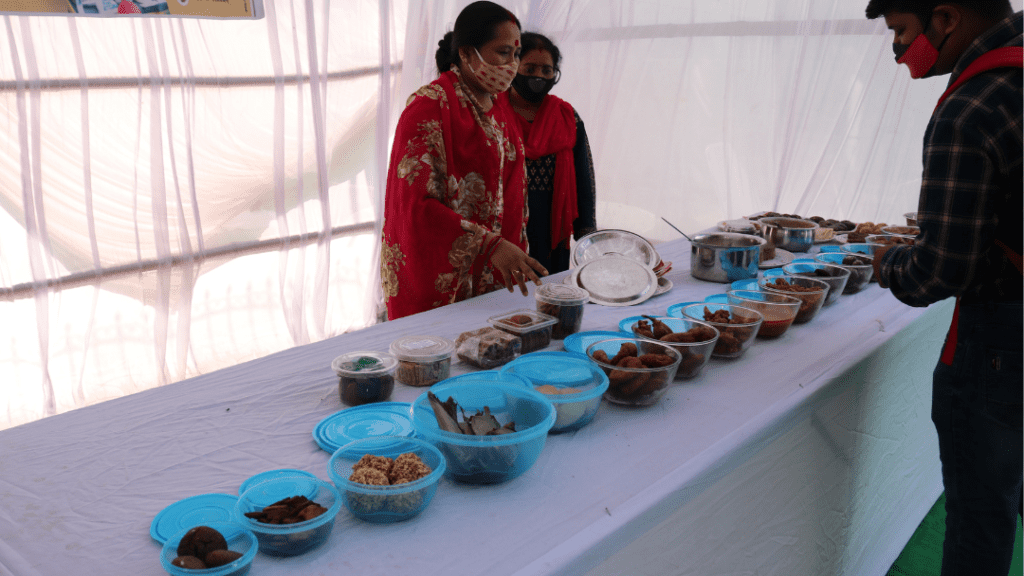 To improve the skill and capacity of women SHGs, further training and exposure visit on advanced technology in value-addition of millets will be provided by Odisha Millet Mission under the guidance of CSIR-CFTRI, Mysore.
The core objectives of the initiative are to address nutritional security and revive the age-old tradition of millet consumption and finally provide livelihood opportunities to women SHGs in Odisha.
Keonjhar district has received national-level recognition for introducing "Ragi Ladoos" for pre-school children enrolled across AWCs and became the first district in the state to include millet under ICDS. Currently, more than 86,500 pre-school children across 3,257 Anganwadi Centres in the district are covered. NITI Aayog featured this unique initiative in their Health and Nutrition Practice Insights.
Definitely, in the coming days, it will help people to maintain good health and also empower women SHGs in Odisha.
Author: Tapas Chandra Roy, A Certified Farm Advisor on Millets, 'Promoting Millets from Farm to Plate'. In a mission to take the forgotten grains- Millets to Millions. To remain updated on my blogs on millets you can join my Telegram Channel – Millet Advisor.