The Millet Movement in India:
It was the day when I was witnessing the first video of the Millet movement in India Coffee Table Book in an event "Nutri-Cereals Multi Stakeholders Mega Convection 3.0 held at Hyderabad which was jointly organized by Nutrihub, ICAR-Indian Institute of Millets Research and the Food and Agriculture Organization(FAO) in association with Niti Aayog, Government. Really this book-"The Millet Movement in India" is bringing the valuable insights covering the millet stories around India.
It is touching the happenings with Millets in India covering the Government Initiatives, Enterpreneurs, NGOs, Chefs, Farmers and Consumers.
The Prime Minister of India gave a nice remarks about this Coffee Table Book. He said, "I am confident the coffee table book will provide valuable insights into our cultural culinary landscape and help increase awareness about our ancient wisdom of food processing" and May the photographs and information on millets add to the experiance of readers and may the publication contribute towards linking Indian traditions with the future of humankind.
Content of the Millet Movement in India:
This book is broadly covering the 10 aspects of millets happenings in India.
Smart Chefs
Social Entrepreneurs
Smart Farming
On a Millet Mission
Millets to overcome malnutrition
Millet Traditions
Recipes
India's Millet Movement
Millets grown in India
Millet Products
The United Nation General Assembly adopted the resolution sponsered by India and supported by more than 70 countries, declaring 2023 as the International Year of Millets. The responsibility of India has increased to manyfold in creating awareness about health benefits of millets and how millets can combat the climate change. This book is the timely out for all the consumers, policy makers, farmers and entrepreneurs.
No doubt, millets were part of our traditions but it was disapearing from our plates. To bring back the ancient grains a lot of initiatives has been taken. To meet the taste and preferences of the consumers this book has bought some modern millet recipes made by the top chefs like Ranveer Brar, Sanjeev Kapoor, Anahita Dhondy and Saransh Goila.
Experts Comments on the Millet Movement in India: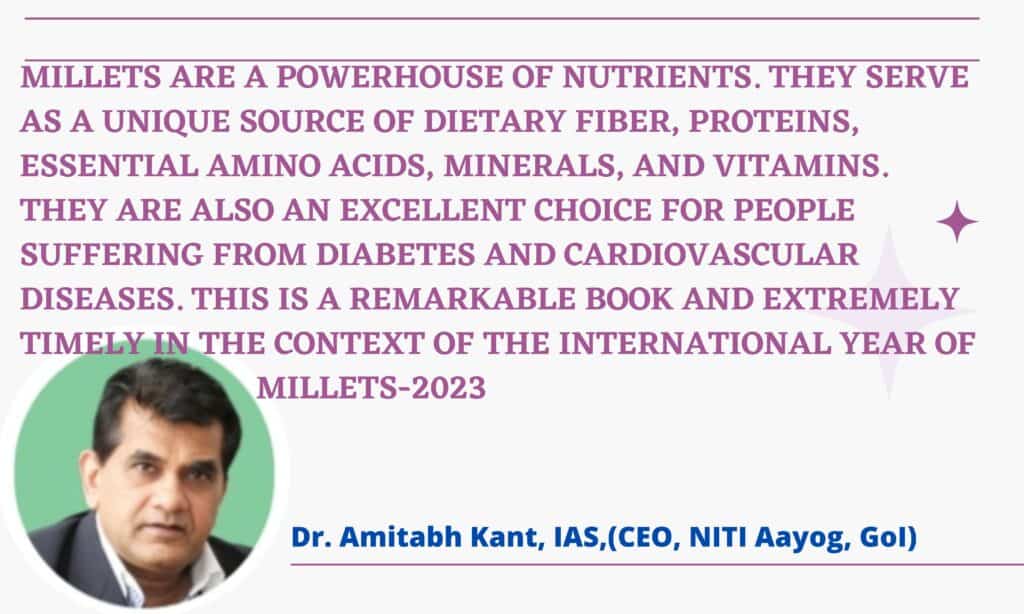 With the need to adopt to climate change, the resilience of millets have become more important for our farmers. We have stepped up our research work in millets and paving the way globally to bring attention to the amazing value of these grains said, Dr.Trilochan Mohapatra, Secretary DARE, DG,ICAR.
Dr. R. Hemalatha, Director, National Institute of Nutrition gave her valuable comment on this book "Millets have had a resurgence in popularity inIndia, which is ging to be important for diversifying diets. They can also be important for helping reduce anemia, especially good for growing children and for women, as well as for preventing and managing diabetes. But we still have to be careful how we prepare the food, how we combine the right foods and food safety and hygiene. If we can get this right, bringing back the millets can have a powerful impact.
"Millets are indeed superior cereals in terms of nutrition and resilience and also in terms of sustainability. They are ideally suited to address child undernutrition and fit very well in nature-friendly production. Use of millets in various nutrition intervention programs and in Public Distribution System will be of great help to address malnutrition and improve the health of low-income households." commented by Prof Ramesh Chand, Member, NITI Aayog, Government of India.
This book has covered all the types of millets grown in India with photographs.
The Millet Movement in India also highlighted the meta-analysis of millets in a series of scientific study.
A systematic review and meta-analysis of the potential of millets for managing and reducing the risk of developing diabetes mellitus.
Regular consumption of millets can improve hemoglobin and serum ferritin levels to reduce iron deficiency anemia.
Millet Products in the Millet Movement in India:
This book has covered the successful millet enterpreners' products those have made a place in the market and consumers diet. The millet products are getting good response from the consumers. The millet products are in the category of Ready to Cook, Snacks, Baby foods and Cereals.
Let me tell the names of the Millet Products:
Troo Good by M for Millet
Soulfull
Slurrp Farm
Orillet
Bewust Foods
Early Foods
bb GoodDiet
Health Sutra
Monsoon Harvest
Vijaya Foods
Earthspired
Fructus terra
---
Related Post : 10 Innovative Millet Business Plan – A Profitable Agribusiness Idea for Startups in India
---
Government Initiatives in the Millet Movement in India:
This book has covered the Initiatives taken by States in promoting Millets and also the study in feeding school children with millets undertaken by ICRISAT and Akshya Patra Foundation. Feeding children with millets has given a positive feedback. Definitely this will help in taking bold decision for addressing malnutrition and nutritional security in India.
Odisha Millet Mission has impacted and recognised in the national and international level due to its uniqueness. Recently received the Best Millet Promoting State and it was presented by the Union Minister of Agriculture and Farmers' Welfare, Narendra Singh Tomar to Dr. M. Muthukumar, Director, Agriculture and Food Production, Odisha under Poshak Anaj Award.
I must thank the authors ( Joanna Kane-Potaka, Liam Wright and Dr Sangeetha Parthasarathi ) of the Millet Movement in India Coffee Table Book for taking this initiative and putting their best effort in bringing the awesome touching stories of millets in India and also thank the Indian Institute of Millets Research, Hyderabad in supporting this book.
---
The Millet Movement in India Coffee Table Book is available in Amazon.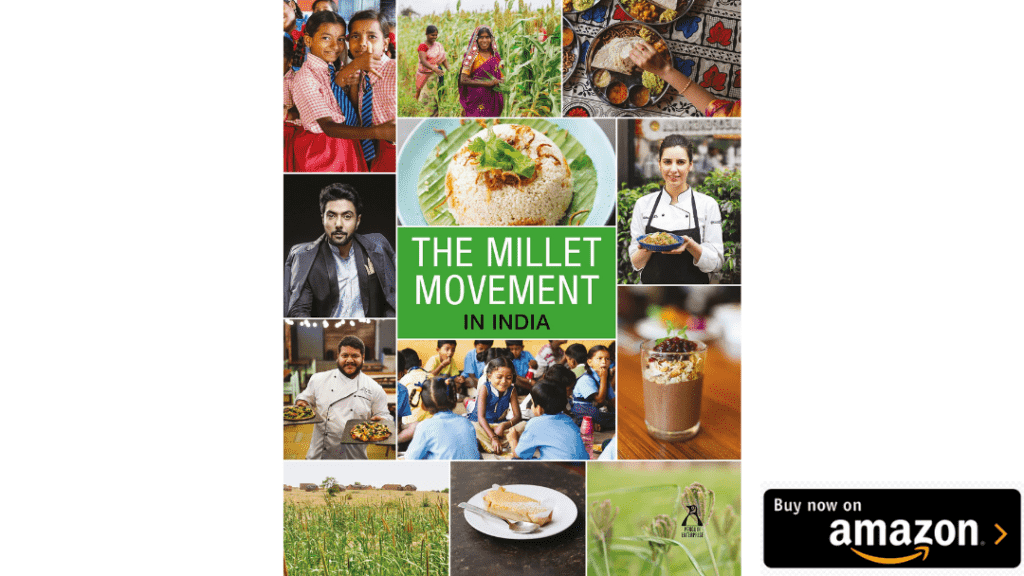 Author: Tapas Chandra Roy, A Certified Farm Advisor on Millets, 'Promoting Millets from Farm to Plate'. In a mission to take the forgotten grains- Millets to Millions. To remain updated on my blogs on millets you can join my Telegram Channel – Millet Advisor.