SMI in Finger Millet:
SMI stands for System of Millets Intensification. It is similar to SRI( System of Rice Intensification) in rice. This method of agronomic practice is to enhance productivity and to increase the production in Millets. Now SMI in Finger Millet is practiced by most of the farmers in Odisha under Odisha Millet Mission. This practice is getting popular in the farmer field because it is giving promising yield as compared to the traditional method. Generally, this method is followed only for Finger Millet. But this year I made a trial with Barnyard Millet and the performance is good. Let us see the package of practices followed in SMI.
Land Preparation:
The land should be well ploughed in the month of June after the first shower of rain. This method is suitable for cultivation in medium land. It must be ensured that no water remain stagnant in the field for long period.
Selection of seed:
It is always recommended to select a variety which is more suitable for that particular area. There are some promising local varieties that farmers are still cultivating. In the era of Research and Development, there are many high yielding which is accepted by the farming community. Last year during my project work in Koraput, I could find Bhairabi variety performing well in the SMI method. But there are also some popular Finger Millet cultivars giving excellent yield like GPU-28, GPU-48, GPU-66, GPU-67, and KMR-204.
Seed Rate for SMI:
In Traditional/Conventional method we generally require 4 kg of seeds per acre but in SMI method we need only 300-400 gm per acre. Farmers can definitely save seeds by this method.
Seed Treatment:
It can be done in a chemical or organic way. But I must suggest going in an organic way as it costs lesser and resources easily available with the farmers. Treating with Bijamrita is well accepted by the farmers.
Raising of Seed Bed:
Generally, forty square meters of the area is required for transplanting a one-acre area. The bed should be raised up to a height of 6 inches. Lines are marked with a khurpi or a stick. After the treated seeds are completely dried it is mixed with sand and spread in the grove of the marked lines. Fine powdered FYM or Vermicompost is used to cover the sown seeds in the bed.
Preparation of Main Field:
Main Land is well ploughed with tractor and 30 quintals of FYM is spread over 1 acre of land. Plough atleast 2 times before transplanting of finger millet.
Transplanting:
15-20 old days seedlings are best for transplanting. The seedlings should not be uprooted as we do in rice rather use a spade. Take out the seedlings along with the soil and ensure that roots are not broken. Line marking is made at 10 inches from line to line and plant to plant with an iron or wooden marker. Making lines with a marker will create a ridge and furrow. A rope is used for marking the distance of plant to plant. Compost or ash is put 10 inches apart and seedlings are placed on this mark. Seedlings are planted slightly covering it with the soil.
Weeding:
Weeding is an important operation to be carried out in SMI. It is done after 15 days of transplanting by a cycle weeder. 3 times of weeding is recommended at 15 days interval.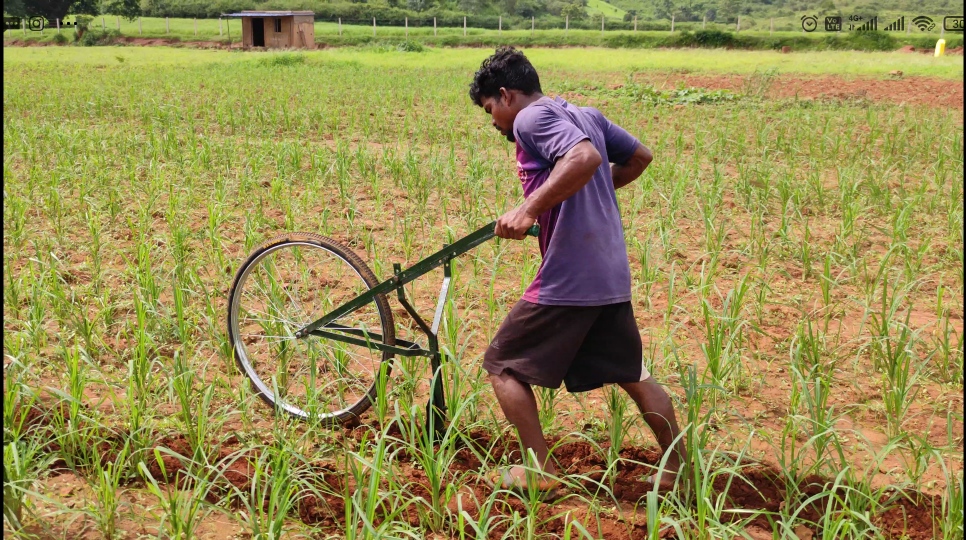 Log Rolling:
A log of 8-10 feet long is tied with a rope on both ends and it is pulled over the finger millet plants on 25-30 after planting. It is pulled only in one direction. This operation bends the plant and gives a shock so that more tillering occurs.
Millet farmer reaps good harvest and earns profit
Related Post: Types of Millets grown in India and abroad.