Millet for Weight loss:
Due to the lack of dietary diversity in our diet, there is an increase in non-communicable diseases like diabetes, obesity, and cardiovascular disease. Obesity or Overweight is the major problem faced by city dwellers. Obesity is increasing at a fast rate in India because we are giving more preference to refined cereal-based diets, consuming more packaged food that is high in salt, sugar, and fats, and also taking a more high-calorie diet with low nutrients. The unhealthy consumption of food has created a disturbance in our bodies.
So, if you ask me to give you a better option that helps you in shedding the extra kilos without compromising on nutrition, I will say "Millets".
Today, in this blog I will take you around discussing millets, what and how millets will be helping you in your weight loss journey, and how to choose millet for weight loss.
Millets are the small-seeded grains that come under the Poaceae family. It is the ancient grains, now called the Nutri-cereals due to their high nutrient content. There are nine types of millets grown in India and some are grown in African countries like Teff and Fonio. Each millet is unique in its nutritional profile. Including millet in the regular diet helps us to keep our body healthy and boost our immunity and also helps to maintain weight.
Study on Millet for Weight loss:
The first-ever large-scale survey was conducted by ICRISAT, where 15,500 people were interviewed on millet consumption in India. It study was undertaken in major seven cities of India and they are Ahmedabad, Bengaluru, Chennai, Delhi, Hyderabad, Kolkata, and Mumbai.
From this survey, it was found that the single largest reason for eating millets was due to health problems(30% of people responded) and the next largest reason was people wanting to lose weight accounting for about 15%.
This shows that millets have the potential to help people in losing their weight.
Specific Contents of Millet for Weight loss:
It is very much essential to know the specific content in millets that are favoring weight loss. Let us discuss it one by one so that it will help us a better understanding.
Policosanols:
Research has found that the presence of policosanols in food helps in weight loss. Policosanols are a group of high molecular weight (20–36 carbon) aliphatic primary alcohols found in plant epicuticular waxes. Sorghum, which is known as Jowar contains policosanols that help in reducing cholesterol in our body. Whole sorghum grain contains about 69.7 mg/100 gm of policosanols whereas polished sorghum contains about 9.8 mg/100 gm.
The calorie content in Millet for Weight loss:
When it comes to weight reduction or increase, the calorie content of food is crucial. According to research, eating fewer calories than our bodies truly burn can help us lose weight more quickly. Barnyard Millet has a caloric value of 307 kcal and can be included in your diet.
Tryptophan:
It's an alpha-amino acid that's involved in protein synthesis. The presence of tryptophan in Foxtail Millet makes it digested at a slower rate, which prevents us from taking excess calories in our diet and helps us in losing weight.
Dietary Fibre in Millet for Weight loss:
Millets, as you may know, are high in dietary fiber, which helps to prevent constipation and lower the risk of gastrointestinal diseases. Let us see what are the function of dietary fiber.
Carbohydrate absorption is slowed, and glucose tolerance is reduced.
Food transit time in the intestine is increased.
Dietary fiber helps in water absorption.
As a detoxifying agent, it aids in the binding of toxins.
Dietary fiber in millets has the above function, which directly aids in body weight loss. So, which millet to choose must be in your thoughts. Sorghum(10.2 g), Pearl Millet (11.5 g), Finger Millet(11.2g) (Source: Indian Food Composition Tables, NIN-2017), and Barnyard Millet are five millets that are high in dietary fiber (12.6 g).
How to use Millet for Weight loss:
Using millet for weight loss is simple and easy. Millet can be cooked like rice. The only thing that we should take care of is the measurement of millet grains and water. It just takes about 20-25 minutes hardly to cook completely. Before cooking millet, it is recommended to soak the millet overnight or for 6-8 hours. As you know soaking helps in breaking down the phytic acid and becomes easy for cooking and digestion.
If we are using a pressure cooker, we need to cook for 2 whistles on medium flame and if we are using an earthen pot or vessel, we need to cook for 12-13 minutes on medium heat with a lid covered. Turn off the gas stove after 12-13 minutes and allow it to rest for 10 minutes. Resting time makes the cooked millet fluffy.
Millet Recipes for Weight loss:
Replacing rice and wheat with millet is a healthier option and with it, you can start your weight loss journey. With millets, we can make different types of recipes that are healthy and nutritious. Let us see some recipes that you can include in your breakfast, lunch, and dinner menu to get better results.
Millet Upma for Breakfast:
Millet can be used to make upma. I have made upma with Barnyard millet and available vegetables at home. To give you the essence of how millets can be cooked in an earthen pot, here is a video for you. Definitely, you will love it.
Millet Pongal for Breakfast:
Millet can be used to make Pongal. In this recipe, I have taken Foxtail Millet. It is a simple, easy, and healthy recipe mostly cooked in South India.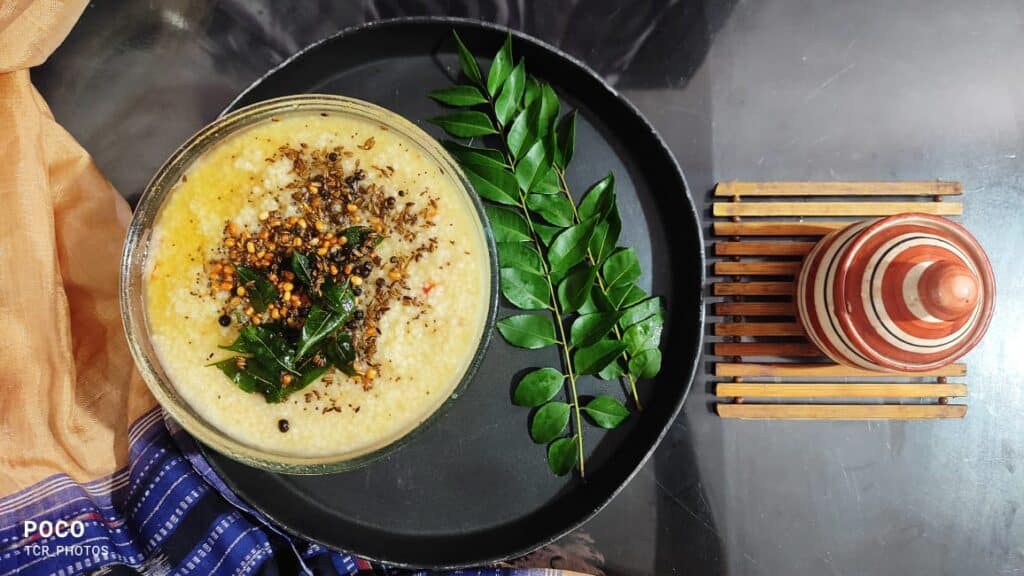 Millet Khichdi for Lunch:
Millet and Legumes make a good combination for khichdi recipes that creates high digestible, complete protein packed with nutrients. Researchers conducted tests of various combinations of millet and legumes and found that the best ratio of millet to legume is 3:1. So, you can make khichdi taking Pearl Millet(Bajra), Sorghum(Jowar), Foxtail Millet, and Barnyard Millet.
Millet Flour Recipes for Dinner:
Most of us are familiar with wheat flour for making rotis/chapatis at home. But selecting millet flour for making chapatis is good for health and weight loss. You can take Finger Millet(Ragi) Flour, Sorghum, and Bajra flour to make Rotis. In the initial days, you may face little difficulty in making rotis as millets are totally gluten-free and when you become familiar, it will be easy.
5 Best Millet for Weight loss:
Taking into account the content of millet like calorie content, fiber, policosanols, tryptophan, protein, and complex carbohydrates, we can select 5 types of millet for weight loss and they are as below:
Sorghum (Jowar)
Pearl Millet (Bajra)
Finger Millet (Ragi)
Foxtail Millet
Barnyard Millet
To give you the overall discussion in the form of a video, you refer to this for more clear understanding.
Barnyard Millet for Weight loss:
The high fiber content of Barnyard millet is about 13.6 gms per 100 gm grains, which keeps the body feeling full for a longer time. As a result, it reduces the desire to eat more food, which is how additional calories can eventually enter the system. Those looking for the best millet for weight loss should add it to their regular diet. Apart from that, the Barnyard millet is high in antioxidants, which help in the treatment of a variety of diseases and health problems.
Foxtail Millet for Weight loss: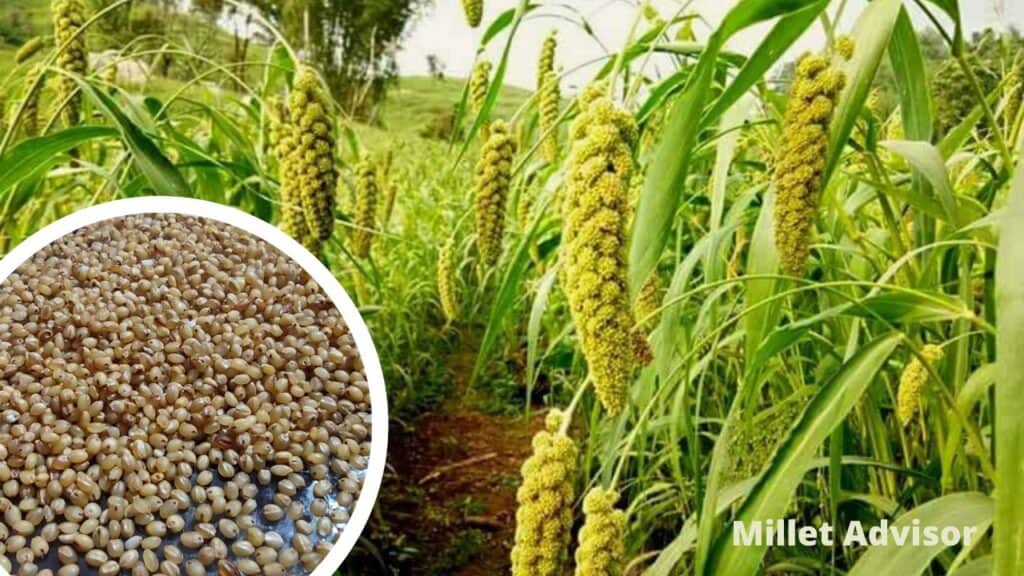 Foxtail millet is rich in dietary fiber and complex carbohydrates. These qualities of this millet make it a better option to choose for the weight loss journey.
Finger Millet for Weight loss: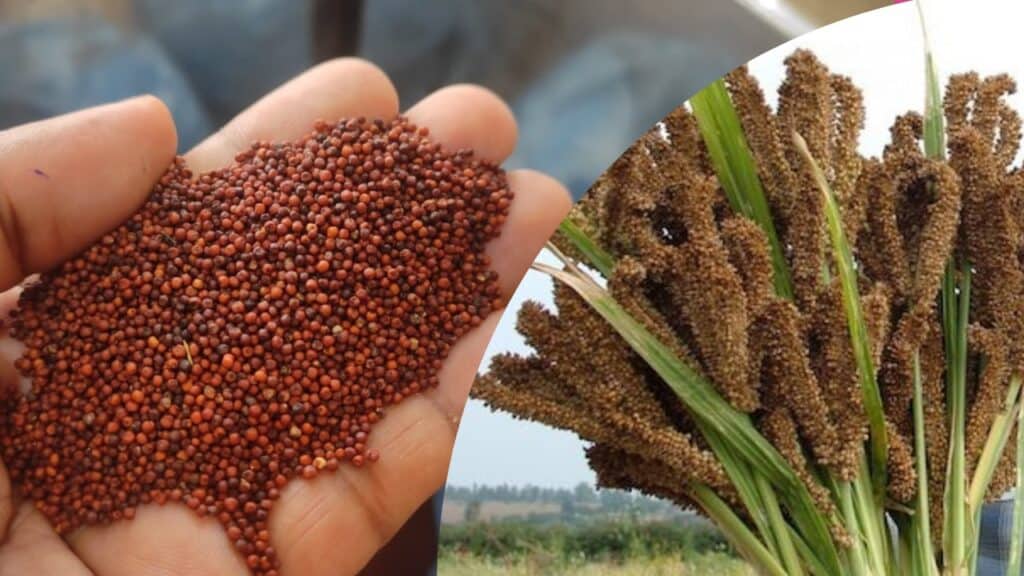 Finger Millet known as Ragi is the most common and popular millet grain in the household of India due to its ease in processing and making recipes. Ragi is rich in calcium, potassium, and iron content. The iron content of Ragi helps in producing hemoglobin in red blood cells. Due to its high fiber content, it takes more time to get digested in the stomach and keeps us fuller for a longer time and as a result, it is good for weight loss.
Pearl Millet for Weight loss: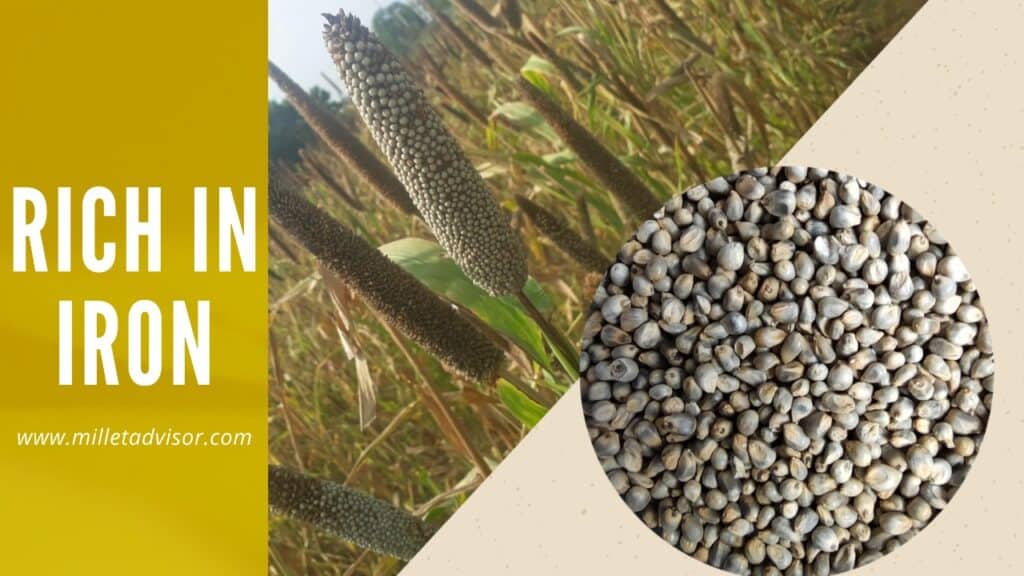 Pearl Millet contains the highest iron content. It is about 4 to 8 mg per 100 gm of grains. It also contains high Zinc and Folic acid. The Folic acid content in Pearl Millet is the highest among the cereals. It has 2 times more protein than milk. So, the richness of fiber, protein, calcium, magnesium, and other minerals makes it a good option for weight loss.
Sorghum for Weight loss:
Sorghum is commonly known as Jowar in India. It is quite popular in rural areas as rotis are made out of jowar flour. It is rich in iron, protein, and fiber. Most important the policosanol content in Sorghum helps in reducing the cholesterol level in the body. The whole sorghum grain is better than polished grain for weight loss.
Conclusion:
Millets play a vital role in the weight loss journey. To manage weight and attain a healthy body, one must include millets in their regular diet for better results. Hope this blog could convince you to select the best millet for weight loss and fuel you to start your weight loss journey.
Author: Tapas Chandra Roy, A Certified Farm Advisor on Millets, 'Promoting Millets from Farm to Plate'. In a mission to take the forgotten grains- Millets to Millions. To remain updated on my blogs on millets you can join my Telegram Channel – Millet Advisor and can write to me at [email protected]