EarthPoorna:
EarthPoorna, a social venture by Sucheta Bhandare of Pune involves women in the business and procures millet directly from farmers and thus ensures and supports the livelihood of women and farmers. It was a humble beginning with a passion for farming that attracted Sucheta to study the whole millet ecosystem and understand the problems faced by the women. She knew that women farmers face a lot of challenges apart from climate change, soil degradation, and crop loss but taking small steps led to the discovery of stark realities. To bring a small change in society, Sucheta started EarthPoorna.
Meaning of EarthPoorna:
''EarthPoorna'' derives its name from mother earth. It has three contexts attached to it, one is the literal meaning which means 'full of Earth', the second one points towards something 'meaningful' from its Marathi root word and the third context is that which brings money to the homes of our Farmers.
Millet Journey of Sucheta:
Sucheta started with Finger Millet (Ragi) and slowly diversified her product portfolio taking millet as the main ingredient. From the beginning, she was aware of the health benefits of millet and this made her reach more people in India confidently.
It was interesting to listen to her journey from her childhood to starting this millet startup and creating a sensation among the people of India. Let us give ear to her amazing millet journey.
The short breaks at my school in Vadner used to be so interesting that even the thought of it makes me smile today. I used to take peanuts and jaggery, dates and grated coconut, roasted grams, and puffed rice on some days, and seasonal fruits, pulses, and healthy and nutritious ladoos on other days. During days-offs and holidays, my friends and I would go to the farms and happily devour whatever was growing there. Spending my childhood in a village in the district of Nashik meant that I had no other option for the junk food that kids in the cities eat today.
Today, although I live in a big city like Pune, my hunger pangs are still fulfilled by such simple preparation. All this was easily available to me back at home because my mother made it a point to put it in my Dabba(tiffin box). In cities, there are many out there who want to incorporate such a healthy diet into their lifestyle but have no time and sources to get hold of such products.
That is why we are bringing to you such preparations filled with love and health. A combination of your grandma's recipe and expert advice on diets suitable to our lifestyle is what you will find in our natural and tasty preparations. We at 'EarthPoorna Foods' are glad to serve you delicious food in your office, school, gym, college, and at your home.
The best thing about EarthPoorna is that the chemical-free raw materials are procured directly from the farmers. In the initial days, it was difficult to get ragi grains, but slowly Sucheta Bhandare convinced the farmers of her locality to cultivate and promised to pay a better price. Farmers were happy and started cultivating ragi in their fields when they could find a better market for their produce.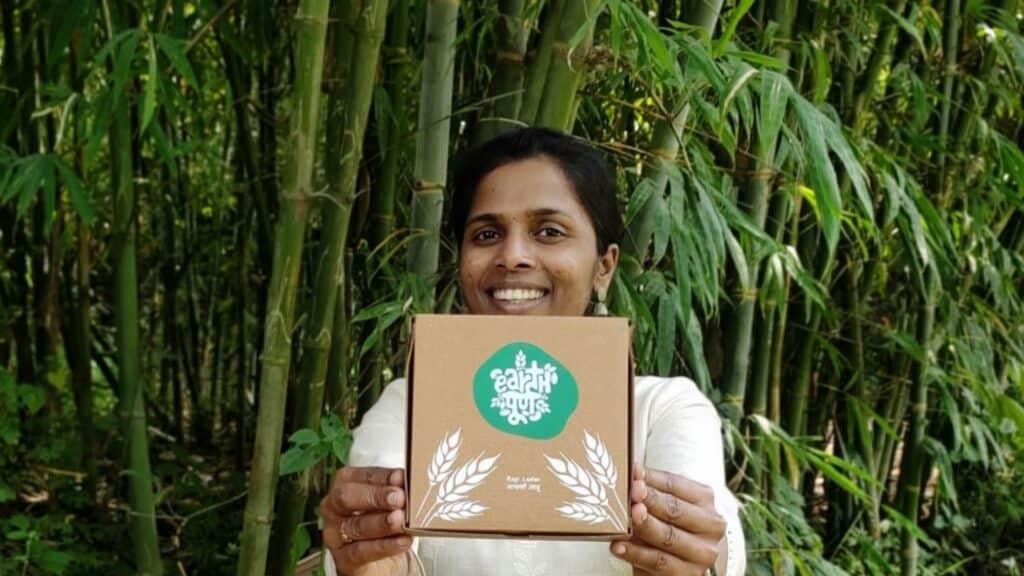 EarthPoorna has a team of dedicated and well-trained women who make delicious, healthy, and nutritious ragi ladoos. This venture brought about a change in the life of the women and improved their livelihood status.
EarthPoorna Ragi Ladoos impact the health of the consumers. Now, people have got a nice product to choose from. Ragi Ladoos has reached different corners of the country. The feedback from the consumers is amazing and they are recommending it to their friends and relatives. They liked the taste of the Ragi Ladoos. It is becoming a part of every festival in India. It has created positive vibes among consumers.
The Ragi Ladoos are made by maintaining proper hygiene and cleanliness. These products are tested in the Government Lab and a proper nutrients certificate is obtained and also certified by the Food Safety and Standards Authority of India (FSSAI). Ragi Ladoos are made under the guidance of a Nutritionist and Ayurveda practitioner.
Ragi Ladoos are made in four variants. The main ingredients of the ladoos are Ragi flour, Jaggery, Cow Ghee, dry fruits, dry dates, flax seed powder, and Cardamom powder. One of them is the multigrain ladoo which is made with a combination of pulses, flax seeds, jaggery, ghee, and almonds. Research has found that millet in combination with pulses improves the bioavailability and absorption of nutrients in the body.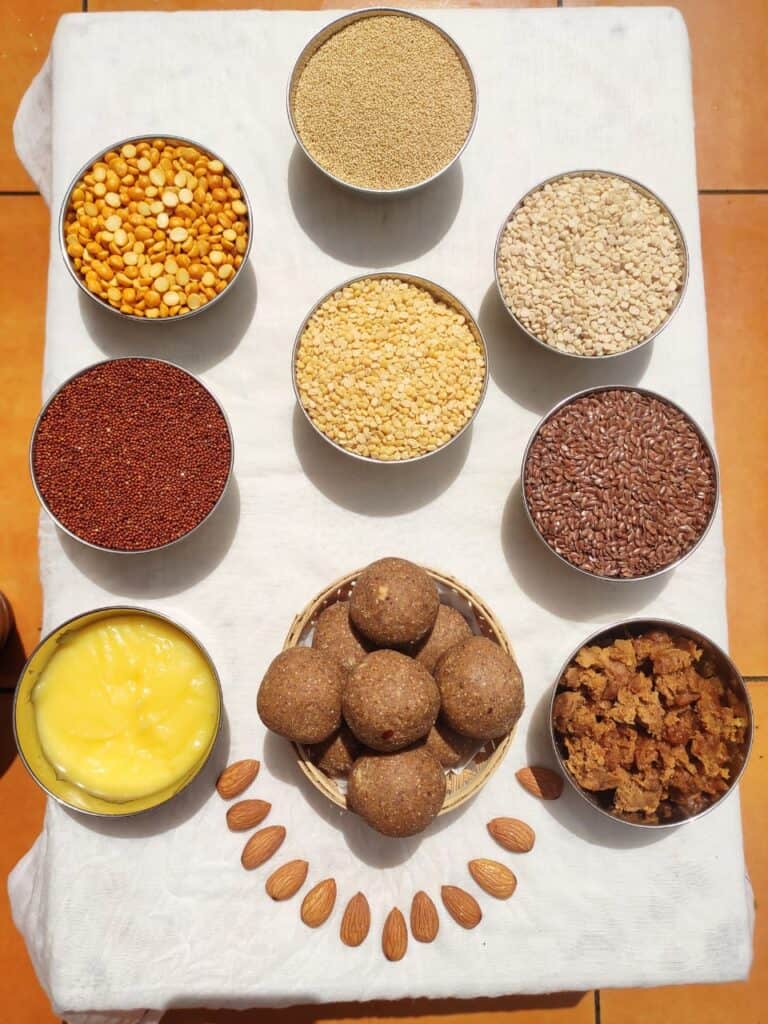 This makes EarthPoorna's Ragi Ladoos unique in the market.
Making the ragi ladoos available on the online platform has increased the sales and could reach every corner in India. Adding Ragi Ladoos to your diet will definitely keep you and your family healthy. EarthPoorna's venture works for the sustainable development of farmers and simultaneously provides you with wholesome and healthy food. I hope this social enterprise will flourish more in the days to come and bring smiles to the face of the farmers and keep us healthy.
Celebrating International Millet Year in EarthPoorna way!!!
With An Eco-friendly Millet Rakhi and most Loved Millets and Dry Fruits Laddoo.
Don't miss out on this wonderful opportunity to celebrate Rakshabandhan in an eco-friendly and heartwarming way with EarthPoorna's Rakshabandhan Celebration Pack.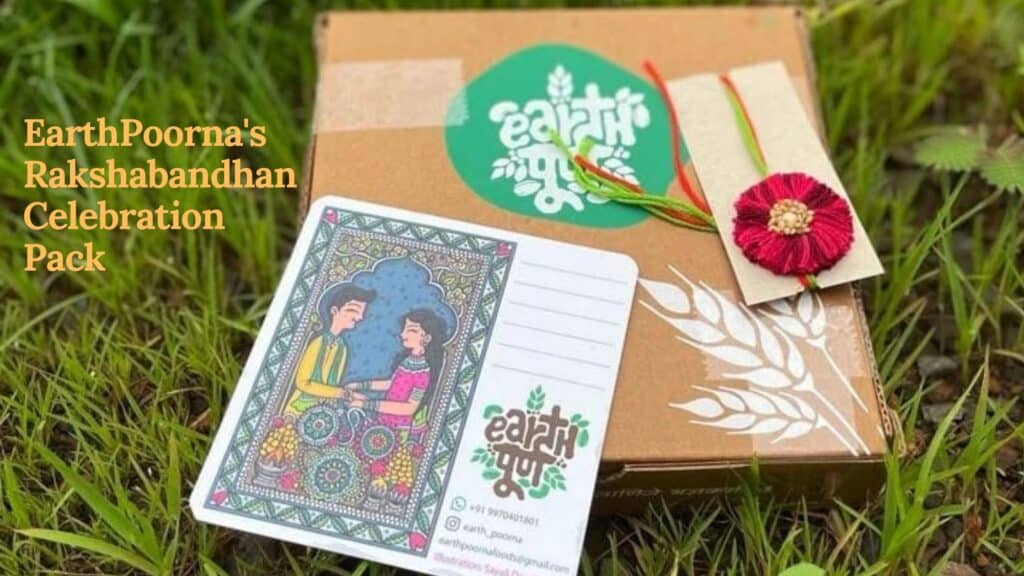 This pack includes:
4pcs of Ragi Laddoo
4pcs of Multigrain Laddoo
1 eco-friendly Seed Rakhi for a greener celebration
1 Rakhi Special Fridge Magnet ( with a customized message )
All of this goodness for just ₹499,
with FREE Pan India shipping! 🚚
Let's make this Rakhi season extra special with EarthPoorna!
For booking, please send a WhatsApp message to +91- 9970401801
Author: Tapas Chandra Roy, A Certified Farm Advisor on Millets, 'Promoting Millets from Farm to Plate' and an Author of the book -" Millet Business Ideas-Empowering Millet Startups". In a mission to take the forgotten grains- Millets to Millions. To remain updated on my blogs on Millets please subscribe to my newsletter and for any queries please feel free to write to [email protected]