The proposal of India supported by 72 countries and the United Nations General Assembly (UNGA) to declare 2023 as the International Year of Millets on 5th March 2021 was a great achievement. India is at the forefront in popularising millets at the international level and this has also increased its responsibility.
On 19th July 2022, NITI Aayog and World Food Program have taken initiative for Millets mainstreaming in Asia and Africa. In this context, a compendium of good practices will be prepared for scaling up the production and consumption of millets.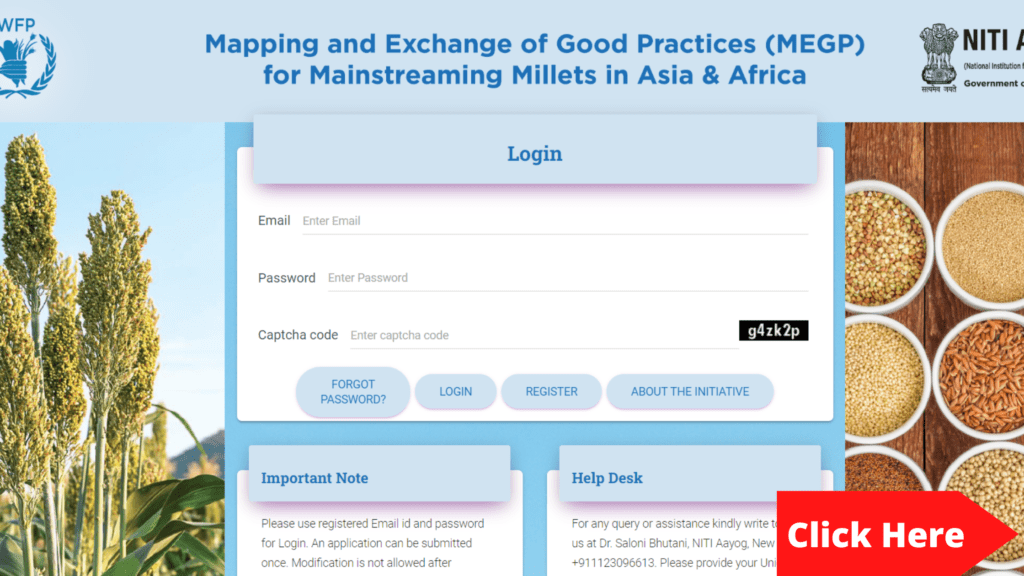 In this event, a web portal was launched for mapping and exchange of Good practices(MEGP) by Shri. Suman K. Bery, Vice Chairman, NITI Aayog in presence of Prof. Ramesh Chand, Member, NITI Aayog, Dr.Ashok Dalwai, CEO, National Rainfed Area Authority, Shri. Bishow Parajuli, Representative and Country Director, WFP, India, and Dr.Neelam Patel, Senior Advisor, Agriculture, NITI Aayog.
Representatives from ICAR, State & Central Government Department, State, and Central Agriculture Universities, FPO, NGOs, Start-ups, Academia & Research, ICRISAT, and ICID participated in this event.
Opening Remarks by Shri. Suman K. Bery, Vice Chairman, NITI Aayog
The government of India has taken numerous steps to promote millets and well recognized the role of millets in the nutritional security of India. Multiple challenges in millets need to be addressed both in terms of production and adaptability among the consumers and cultivating the taste for millets.
We need to identify both demand and supply constraints contributing to the decline of production of the wonder grains and formulate policies accordingly.
Sharing best practices identified and fill the knowledge gap. Create and generate innovative ideas, enable better decision-making, and cut down costs in time. The partnership between NITI Aayog and WFP results in tangible output to bring about transformational change in the nutrition status of the country.
Scaling of Good Practices in Millets Mainstreaming in Asia and Africa:
Dr. Dayakar Rao, the CEO, of Nutrihub, started with a note that mainstreaming millets requires market-driven production, demand-driven policy, and alignment with the food and nutrition security goals of the country.
Mainstreaming can be done by selected interventions across the millet value chain using the experiences of state millet missions and their best practices. Dr. Dayakar pointed out the thrust areas for the best practices.
Increasing the millet areas and productivity.
Augmenting farmers' income from millets.
Improving food and nutritional security.
Climate resilient food systems and sustainability.
Backward and Forward integration of value chain components
Potential for the growth of startups and MSMEs.
International trade through enhanced exports.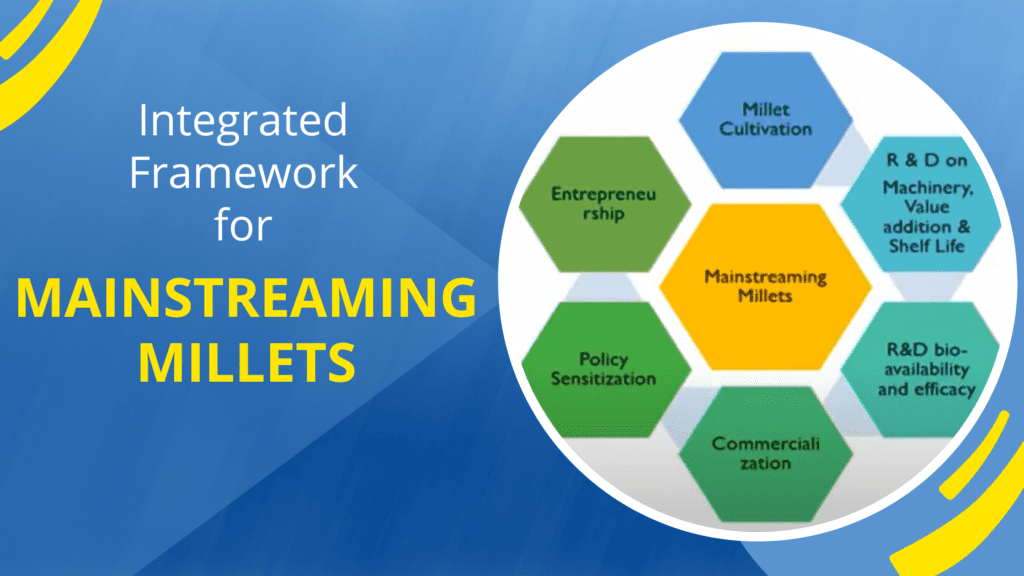 He delivered on the intervention and impact of states' millet mission. The first case was on the Odisha Millet Mission. In Odisha, the millet mission was started in the financial year 2017-18 covering 7 districts, 30 blocks in a 3334-hectare area, working with 8030 farmers, and subsequently, it has scaled up to 19 districts, 142 blocks in an 81,700-hectare area, working with 1.5 lakh farmers in the year 2022-23.
For Odisha Millet Mission, he pointed out and said, As they scale up, one important thing that has to come up in terms of startups as well as grow faster and industry connects has to come.
The second case talks about the Karnataka Millet Mission. The farmers are incentivized for production, financial assistance for establishing millet processing units, and procurement of Ragi and Jowar with a bonus above the minimum support price. These intervention has given a boost to startups and entrepreneurs.
Third Case in Andhra Pradesh: Comprehensive Revival of Millets Cultivation by tribals of North coastal Andhra and Rayalaseema. The local value chain has been established in tribal areas and integrated connectivity has happened and the produce is absorbed in the local ICDS program as well as in the integrated Tribal development schools. A lot of improvement is taking place in these areas.
Initiative for nutritional security through Intensive Millets Promotion (INSIMP) was the program by DA & FW launched under RKVY and this has led the foundation in the 16 states.
In Madhya Pradesh, Kodo Millet and Little Millet are promoted under the Centre's Nutri-Cereals Scheme covering 40 tribal villages in Madla District. The technical guidance on production, processing and value addition is given by MSSRF.
In the state of Chattisgarh, the millet mission has started and MoU has been signed with Indian Institute of Millets Research, Hyderabad for support and guidance for boosting the productivity of Kodo Millet, Little Millet and Finger Millet, providing technical know-how, availability of high quality seeds and setting up seed bank.
Nutrihub is the leading incubator in the country and supported more than 300 startups and transferred 170 technologies.
Way Forward:
Strengthening the seed chain so that availability of seeds in ensured even in the remotest area in India
Increasing the productivity by following the good practices.
Intercropping and better endowed areas.
Balancing the supply and demand of millets.
Promoting millets as aspirational food through branding.
Ensuring Minimum support price for small millets.
Establish effective procurement practice and timely payment to farmers, including localized procurement.
Sensitization of farmers and local government around a change in MSP structure.
Branding through social media.
Raising awareness about nutrition and health facts.
Decentralize value addition and processing.
Invite investment in millets processing and R&D from private sector.
Incentivize private sector participation in RTE/RTC segment.
Pradnya Paithankar representing World Food Program enlighten with the initiative of mapping and exchange of good practices for Millets mainstreaming in Asia and Africa. Millets are looked in the perspectives of food security, climate resilience, economic security, nutritional security and safety from diseases and termed millets as the Future Crops.
Talking about the initiative, laid down the 3 objectives:
Promote climate resilient practices for sustainable food and nutritional security focussing on the most vulnerable communities.
Mainstreaming millets in the country and strenghten India's global leadership in knowledge exchange, leveraging 2023 as an International Year of Millets.
Build resilient livelihoods and adaptation capacities to climate change for small holding farmers and transform food system.
The activities will be carried out in 4 phases:
A compendium of the good practices across millet value chain in the states of India and countries in Asia and Africa and prepare a scale-up strategy.
Support scale-up of millet mainstreaming through knowledge sharing and intense engagement with selected states.
Leverage India's expertise to support developing countries for millet mainstreaming.
Working on building capacities for climate resilient and adaptive livelihood practices.
---
For more details of the Initiative: Click Here
---
Conclusion:
Its a nice initiative by NITI Aayog and World Food Program and hoping that organizations and practitioners from government or non-government organizations, multilaterals
or FPOs/SHGs/PACS/Cooperatives and private sector/startups will participate whole heartedly
with a case story of the intervention that has been conceptualized and implemented in some
geography in Asian & African countries.
Author: Tapas Chandra Roy, A Certified Farm Advisor on Millets, 'Promoting Millets from Farm to Plate'. In a mission to take the forgotten grains- Millets to Millions. To remain updated on my blogs on Millets please subscribe to my newsletter and join my Telegram Channel – Millet Advisor for any queries please feel free to write at [email protected]