Millet Khichdi:
In most Indian homes Khichdi is made often for breakfast, lunch, or dinner with rice, pulses, and vegetables. But, today I have selected Millet for making Khichdi as Millet is more healthy and nutritious than rice.
Millet Khichdi is good for diabetic patients, adults, and also for children. It is perfect for breakfast, lunch, and dinner as it is a wholesome meal. I like millets and Millets is my passion. I promote millets so that the goodness of millets can reach many people. If you like millets the same as me and thinking of adding millets to your regular diet, then you can definitely check my post on "How to cook millets perfectly".
Kodo Millet Khichdi Recipe
For making Millet Khichdi I have taken Kodo Millet which is commonly known as Kodra, Koden in Hindi, and Varagu in Tamil. To know millet's names in different languages you can check this post "Millets name in different languages makes it easy for Identification". In place of the Kodo millet, you can also take Barnyard Millet, Little Millet, Foxtail Millet, Proso Millet, and Browntop Millet.
When it came to selecting vegetables, I quickly opened up the refrigerator and could find carrots, peas, beans, knol-khol, raw banana, green papaya, spring onions, and potatoes. All were looking cool and fresh.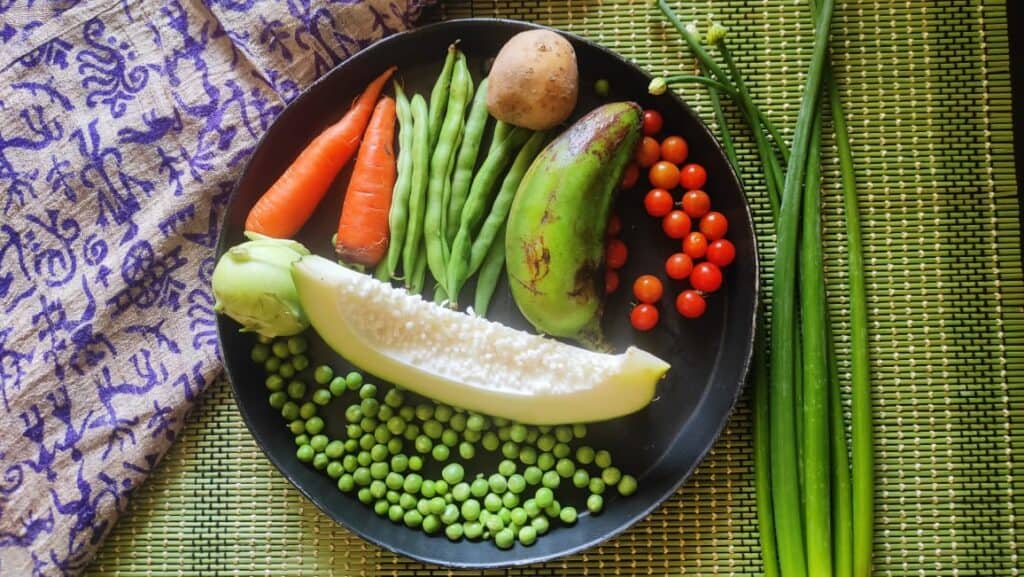 Before going to the recipe, let us know the nutrient content and health benefits of Kodo Millet so it will give us ample reasons to add to our regular diet.
Nutrient Content of Kodo Millet:
| | | |
| --- | --- | --- |
| Sl.No. | Nutrients | Content in 100 gms of dry grain |
| 1. | Protein (in gms) | 8.3 |
| 2. | Carbohydrates (in gms) | 65.9 |
| 3. | Fats (in gms) | 1.4 |
| 4. | Minerals (in gms) | 2.6 |
| 5. | Fiber (in gms) | 5.2 |
| 6. | Calcium (in mg) | 35 |
| 7. | Phosphorous (in mg) | 188 |
| 8. | Iron (in mg) | 1.7 |
| 9. | Energy (in kCals) | 329 |
| 10. | Thiamin (in mg) | 0.3 |
Nutritional Content of Kodo Millet
Health Benefits of Kodo Millet:
Due to low glycemic index, it helps in controlling blood sugar levels, that means it releases glucose slowly in the blood.
It is totally gluten-free so it is good for people suffering from celiac diseases.
Kodo Millet is rich in fibre and helps in weight loss journey.
It is rich in antioxidants.
It is a highly nutritious as it is a good source of vitamins and minerals like iron, calcium. phosphorous, magnesium and zinc.
I Hope, this has given us a better idea about Kodo Millet. Now, let us see what are ingredients required for making Kodo Millet Khichdi Recipe.
Ingredients for Kodo Millet Khichdi Recipe:
1 cup Kodo Millet
1/2 cup Massor Dal
1/2 cup Arhar Dal
2 cup Vegetables (You can take the available vegetables as per your choice. The more diversed and colourful, it is better)
5 cup water
2 tbsp ghee
2 tsp grated ginger
1 onion ( I have spring onions)
1/2 tsp cumin seeds
1/2 tsp garam masala
Pinch of asafetida (hing)
1 tsp Turmeric powder
2 bay leaf
3 dry chillies
Salt as per taste
Process to make Kodo Millet Khichdi:
Wash Kodo Millet and soak it for 6-8 hours or overnight. Soaking helps to breakdown the phytic acid present in millets. The best thing is that it becomes easy for digestion and quick cooking.
Wash the dal and cut all the vegetables as per your choice.
To start the cooking, first take a pressure cooker or pot and heat it. Put the ghee and add cumin seeds. Once it splutter, put bay leaf, asofetida. Saute it a while and add grated ginger and the cut spring onions.
Add the soaked kodo millet and dal and saute for 2-3 minute and then add the cut vegetables and tomatoes. In this recipe I have used cherry tomatoes. Really, it enhances the taste as compared to normal tomatoes.
Saute for a while and add turmeric powder, garam masala and finally the salt as per taste.
Mix it well and add hot water.
Cook it until 2 whistle in the pressure cooker. If you are cooking in pot cook for 12-15 minutes. After that leave it covered for atleast 8-10 minutes. This resting time will make the millets fluffy and soft.
Open the lid and serve the Kodo Millet Khichdi. You can have it with pickle and papad.
To give you a clear picture of how I did it, let us see the picture stepwise.
Stepwise picture of the Kodo Millet Khichdi: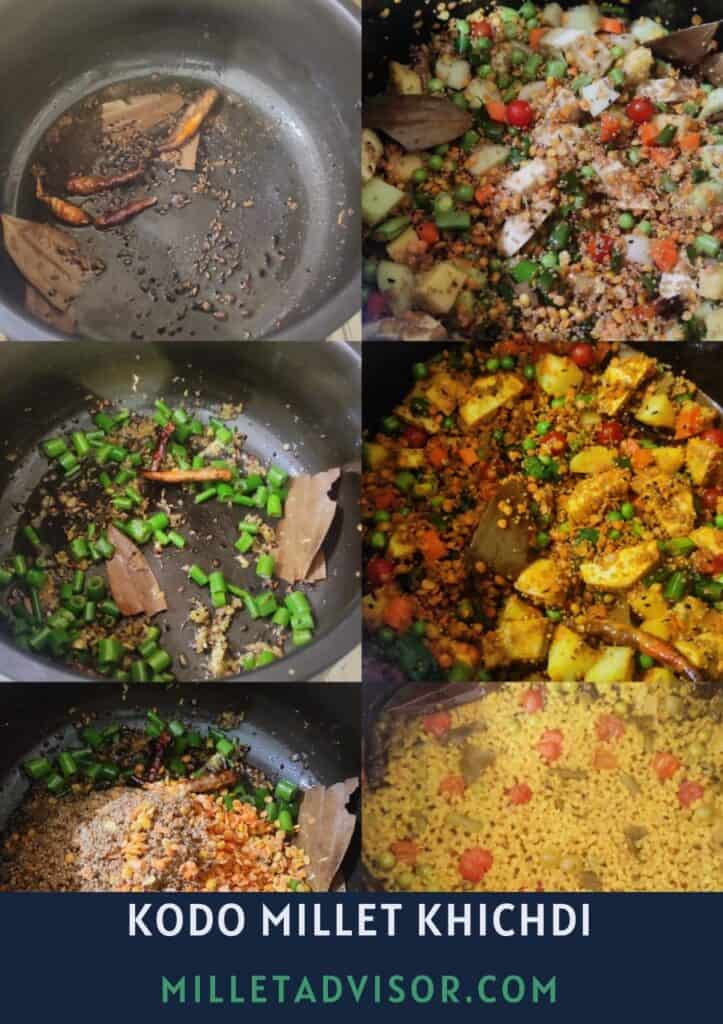 Conclusion:
Hope this blog helped you with "How to make healthy and nutritious Kodo Millet Khichdi at home" and how to add millet to your diet. Please let me know your feedback and how the recipe turned out with you and if any queries put them in the comment section below, I will be happy to hear from you. With this Goodbye and have a nice day and soon meet you in my next blog.
Author: Tapas Chandra Roy, A Certified Farm Advisor on Millets, 'Promoting Millets from Farm to Plate'. In a mission to take the forgotten grains- Millets to Millions. To remain updated on my blogs on millets you can join my Telegram Channel – Millet Advisor and can write to me at [email protected]