Millet Value Chain Analysis:
To understand the millet value chain from farm to plate, we need to see the activities carried out under production, processing, marketing, and consumption. Each activity needs to be analyzed considering the parameters.
The parameters considered under production are the types of millets grown in different states of India, the land devoted for growing millets, suitability of climate, the package of practices followed by the millet farmers including organic and natural farming, availability and source of seeds, the cost involved in producing millets at farm level and the returns farmers get and finally the constraints faced by the farmers.
Under processing will be covering the current millet processing technologies and the machines available in India, the output quality of the processed millets, stakeholders involved in procurement in different states, the standard of the value-added products, and lastly the constraints faced by the processors.
The marketing segment will be analyzing the parameters like the available value-added products in the market, pricing of the products, profit margins, and channels used for the distribution and promotion of the millet products.
In the Consumption segment, will learn about the strategies involved to increase the consumption of millet. To improve the consumption of millet, we need understand the perspective of end users' needs.
Millet Value Chain in the Production of Millets:
In India, there are 9 types of millets grown by farmers. Most of the farmers are small and marginal farmers and it is preferably grown during the Kharif season depending upon the rain. Every state has some prominent millet growing areas or we can say millet corridors.
Let us see, what are the millets grown in different states, so that it will help us to build the backward market linkages.
| | | |
| --- | --- | --- |
| Sl.No. | State | Millets grown |
| 1. | Rajasthan | Bajra/Sorghum |
| 2. | Karnataka | Sorghum/Ragi |
| 3. | Maharashtra | Ragi/Sorghum/Little Millet |
| 4. | Uttar Pradesh | Bajra |
| 5 | Haryana | Bajra |
| 6 | Andhra Pradesh | Sorghum, Ragi, Little, and Proso Millet |
| 7 | Tamil Nadu | Ragi, Bajra, Little, Proso, Barnyard, and Kodo |
| 8 | Kerala | Sorghum, Finger Millet |
| 9 | Telangana | Bajra, Sorghum |
| 10 | Chattisgarh | Kodo Millet, Little Millet |
| 11 | Assam | Foxtail Millet, Ragi |
| 12 | Madhya Pradesh | Kodo Millet, Little Millet, Sorghum |
| 13 | Gujarat | Sorghum, Bajra, Finger Millet |
| 14 | Uttarakhand | Barnyard Millet, Finger Millet, Proso Millet |
From the above data, you can get a clear picture of millet growing areas in India and help you in procuring raw materials for starting a millet business.
It is seen that minor millets are grown by the tribal farmers and it is their source of food and sustaining livelihood. In recent days, it has been seen that farmers cultivating millets, mostly prefer Finger Millet, Sorghum, and Pearl Millet in their regular diet because these 3 millets are easy to process as compared to other minor millets.
With respect to the global scenario as per the report of FAO statistics, 2021, the millet area of India is 138 lakhs hectares and the production is about 173 lakhs tonnes. It shows that 80% of Asia's and 20% of global production, millets are produced in India. It is also very encouraging to see that India's average yield (1239 kg/ha) is better than the global (1229 kg/ha).
After the Green Revolution, the area under millets drastically reduced (56%) but the productivity has increased (228%) many folds and the credit goes to the development of technologies in this millet sector. But it is also an alarming situation where the diversity of millets has lost from 20% of the total food grain basket to 6% and this was dominated by wheat and rice.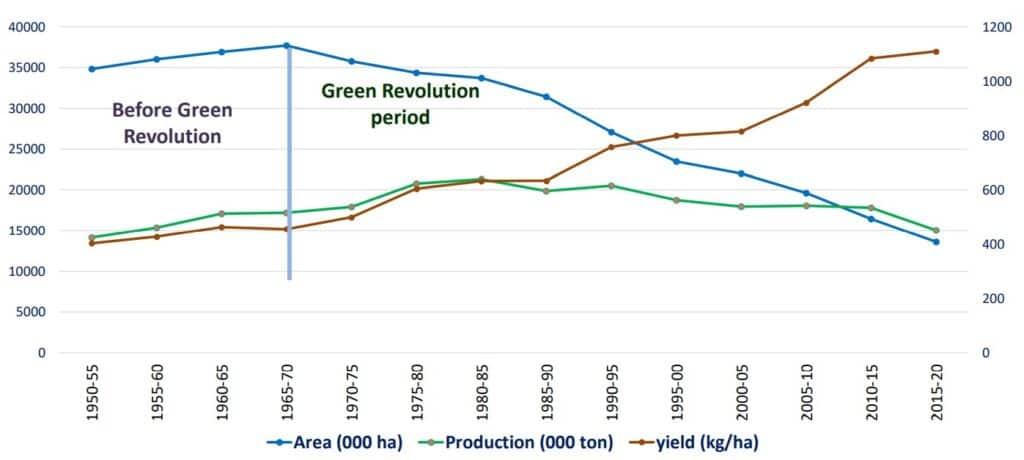 (Quinquennial Mean Area, Production and Yield of Millets in India) Source: IIMR, Hyderabad
All millets can be grown in any type of soil, even in infertile soil the yield is better but few are resistant to water logging. Sorghum grown in Kharif is not used as food grain due to the incidence of developing grain molds.
Basically, Sorghum grown in the Rabi season is used as food. Millets grow well in dry areas of temperate, subtropical, and tropical regions and have the power to resist drought. Minor millets require low water and can fit into the small duration cropping window and it's an ideal crop to provide food and fodder security to the local farmers.
Although the hybrid seeds of Sorghum and Pearl Millet have come into the private seed chain, there is still a shortage of minor millet seeds. Most of the farmers use the seeds retained from the previous season. In the case of Finger Millet, the farmers are very well acquainted with the names of the varieties, even the high-yielding varieties.
In most cases, the farmers simply plow their land at the onset of monsoon and broadcast their seeds adding some Farm yard manure (FYM) and few apply chemical fertilizers. It has been noticed that the millets are highly responsive to chemical fertilizers.
The farmers following good agronomic practices get better yields as compared to traditional practices. It has been observed that following the System of Millet Intensification (SMI) in Finger Millet the yields go up to 8-10 quintals per acre.
While I was doing my project on ''Utilization of Finger Millet in Nutritional Security'' in Koraput I found some amazing facts to increase the production and productivity of Finger Millet.
Awareness creation on the system of millet intensification (SMI) of finger millet as this method is giving more yields as compared to traditional methods.
Conservation of local promising varieties which are giving more yields and sustaining from climate change.
Giving more priority to weed control as it is the main constraint in Finger Millet production.
Sowing/transplanting in time will enhance the production and productivity of finger millet.
More production of finger millet will bring change in the livelihood of the tribal's by addressing the consumption part and also by selling in the market/mandi.
Farmers must be encouraged to use the finger millet residue as fodder as it contains more nutrients and fiber.
Development of context-specific improved varieties to improve productivity, increase shelf-life, improved nutritional content, and promote crop diversity.
For cultivation of a one-acre millet farm, the cost of cultivation ranges from Rs.12,000/- to Rs.20,000/- and if the farmers get a better price in the market, the profit may range from Rs.10,000 to Rs.30,000/-.depending upon the soil fertility and agronomic practices followed.
Millet Value Chain in Millet Processing: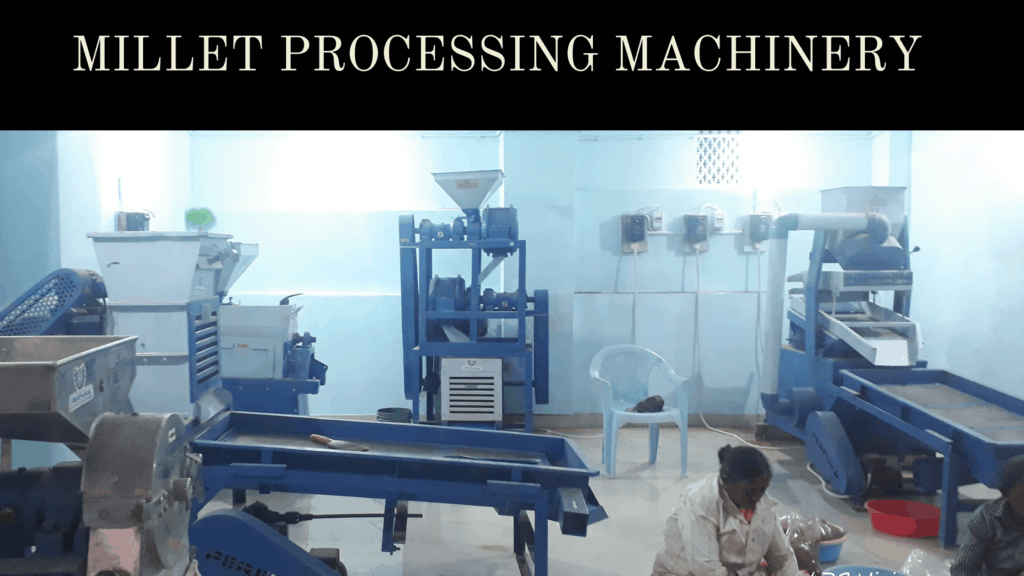 The different shapes, sizes, and colors with wide variations make the primary processing of millets a challenge. Processing involves removing the minor millets' outer husk entirely as it is not fit for human consumption with minimal removal of bran without damaging the kernel and the germ.
There are many steps involved in the primary millet processing, starting from pre-cleaner, de-stoner, huller, grader, gravity separator, and finally packaging. If we take 100 kg of unhulled millet grains, the output of processed grains will be about 65-70 kg.
In addition to millet primary processing, in some units, the millet grains are completely polished, almost removing the bran and this makes the grains nutritionally poor. Even color sorting machines are used to segregate the millet grains uniformly depending upon the color and also any presence of impurities is removed.
After processing the grains, it is packed in 1 kg poly pack and for bulk order, it is packed in 25kg sacks. Some processing units also further do the secondary processing and make millet flour/mixed flour/ biscuits/cookies.
Millet Value Chain in Storage:
Millet storage is an essential part of the millet value chain as it plays a critical role in maintaining the quality of millets and preventing post-harvest losses. Here are some important points to consider for millet storage:
Proper Storage Conditions: The millet should be stored in a clean, dry, and well-ventilated area to prevent moisture accumulation, mold growth, and insect infestation. The storage area should be protected from direct sunlight and rain. The maximum moisture level should be 10-12% to avoid damage.
Proper Cleaning: Before storage, millets should be cleaned and dried to remove any debris, dust, or moisture. Any damaged or infected grains should be removed to prevent the spread of diseases or pests. The cleaning of the millet can be done with cleaner-cum-grader machines. As per the size of the millet grains, the sieves of the machines need to be changed to get quality grains.
Use of Storage Containers: Millets can be stored in a variety of containers such as bags, drums, or bins. The containers should be made of materials that are resistant to moisture and pests.
Appropriate Storage Duration: The storage duration of millet depends on the storage conditions and the initial quality of the grain. Generally, millet can be stored for up to one year if stored under appropriate conditions and it is only applicable to unprocessed grains. If the husks of the millet grains are removed, it has a lower shelf life (3-6 months).
Proper storage of millets can help maintain their quality and reduce post-harvest losses. This can help farmers get better prices for their produce and increase their income.
Millet Value Chain in Marketing:
Millet procurement and marketing happen both in the public and private domain in different states. Odisha procures Ragi under Odisha Millet Mission from the farmers at Minimum Support Price (MSP) and in Chhattisgarh Little Millet and Ragi are procured from the farmers by the Forest Development Corporation.
In the private domain, the traders buy millets at different rates. For Ragi, it is about Rs.22 to Rs.24/-, and Little Millet is purchased at Rs. 35 to Rs.45/-. After procuring millets, they are supplied to large processors in Karnataka, Andhra Pradesh, and Maharashtra.
The presence of a long chain of agents, traders, brokers, wholesalers, and millers add more prices to millets without any value addition and finally, the end consumers have to bear more prices for the processed products. This high price can only be minimized if procurement and marketing are done by Farmer Producers Organizations (FPOs) and subsequently FPOs are connected with the millet entrepreneurs.
After understanding the needs and preferences, millet entrepreneurs can develop millet products. It can be done by doing proper market and consumer research. Once the millet products are developed, different marketing strategies and approaches may be followed to reach the end consumers.
Millet Value Chain in Consumption of Millets:
To increase the consumption of millets, different strategies are followed. Mass awareness and campaigns are conducted in rural and urban areas. It has been reported that social media platform plays an important role in bringing awareness among people. To increase consumption, we need to bring more innovative millet products, and work on the taste of the millet products and the products must be affordable.
Opportunities in Millet Sector:
The demand for millet is increasing around the world and has been reported a remarkable growth in this sector. Today when I was looking into the data on the export of millet from India, it was phenomenal. To know the potential of millet export from India, you can go through my previous blog. Millet Export from India is creating opportunities for Entrepreneurs.
Conclusion:
So far in our discussion, still there is a need to strengthen the millet value chain and this can be done by emphasizing the following points.
Enhance production practices: Encourage farmers to adopt sustainable farming practices such as intercropping, crop rotation, and the use of natural fertilizers to improve the yield and quality of millets and this can be done by supporting the small and marginal farmers.
Provide access to better inputs and technology: Ensure that farmers have access to improved seeds, machinery, and equipment to enhance the productivity and quality of millets.
Develop processing facilities: Establish processing facilities at the local level to add value to millets and produce a range of millet-based products such as flour, flakes, and snacks.
Build market linkages: Connect farmers with markets, buyers, and retailers to ensure that millet-based products reach consumers in a timely and efficient manner.
Increase consumer awareness: Create awareness about the health benefits of millets and promote their consumption through various campaigns and initiatives.
Encourage research and development: Support research and development efforts to improve millet varieties, develop new products, and enhance the overall millet value chain.
Provide financial support: Provide financial support to small farmers and other stakeholders including the millet entrepreneurs in the millet value chain to help them overcome the challenges they face and improve their livelihoods.
Hope by adopting these measures, we can strengthen the millet value chain, promote sustainable agriculture, and improve the food security and income of small farmers. If you liked my article on Millet Value Chain Analysis, please do not forget to comment in the section below and do share it with your friends and relatives. I will be happy to hear from you.
Author: Tapas Chandra Roy, A Certified Farm Advisor on Millets, 'Promoting Millets from Farm to Plate' and an Author of the book -" Millet Business Ideas-Empowering Millet Startups". In a mission to take the forgotten grains- Millets to Millions. To remain updated on my blogs on Millets please subscribe to my newsletter and for any queries please feel free to write to [email protected]